HCC Wind Tech Student Selected for Overseas Internship
5/21/2009

FREEPORT � Highland Community College wind turbine technician student Tanner Clenney, of Lanark IL, has been selected to participate in an overseas summer internship with B9 Energy Group, a leading provider of services in the renewable energy industry.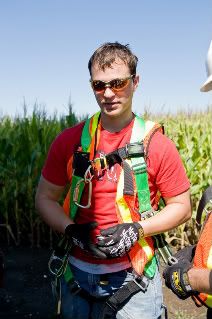 HCC Wind Tech student, Tanner Clenney funny pictures with captions
Clenney has just completed the first year of Highland�s two-year Wind Turbine Technician Associate of Applied Science degree. The program, developed in partnership with EcoEnergy LLC, a unit of the Morse Group headquartered in Freeport, is the first in the state of Illinois. He will begin his work by the second week of June in Larne, Northern Ireland, B9 Energy�s UK/Ireland headquarters. �Tanner will be working in different locations throughout Ireland and the UK with a service team completing scheduled wind turbine maintenance, as well as any other repair issues that may be necessary,� said Matt Ludwick, B9 Energy Internship Coordinator.
Clenney is excited about the opportunity to participate in the overseas internship and has been in contact with officials at B9 Energy. �It will give me the hands-on experience and on-the-job training that should put me a step ahead of other applicants for a position in the wind turbine technician field,� said Clenney. �I had an opportunity to speak with the president of B9 Energy while at an AWEA (American Wind Energy Association) conference in Chicago. Our instructor took a group of students to the convention.� funny pictures
Highland Community College Dean of Business and Technology, Scott Anderson, is also excited about Clenney�s selection. �The College is pleased that one of our students has been chosen for this internship,� said Anderson. �It speaks volumes about the quality of our program.� Clenney was one of three candidates to be selected from a field of forty-five applicants nation-wide. �Competition for all of our internship positions is intense,� said Ludwik. �The positive feedback from Tanner�s instructors, as well as the fact that he is a hard worker and picks up the material well, led to his being selected.� funny images
The internship will include roundtrip airfare to Europe, food, hotel, travel within the UK and Ireland, laundry service and a weekly allowance. Highland Community College offers more than 60 programs of applied and transfer degrees, community education and business training. In addition to comprehensive academic programming, Highland provides theatre, art and music opportunities for the community. Highland Community College is accredited by the Higher Learning Commission and is a member of the North Central Association�s Academic Quality Improvement Program. Located in Freeport and Elizabeth, Highland is conveniently positioned in the tri-state region with access to several major metropolitan areas. For more information about Highland Community College, call 815.235.6121 or visit www.highland.edu.
B9 Energy Group is a leading provider of services to owners and developers in a wide variety of evolving industries worldwide; including renewable energy, renewable fuels and integrated energy systems with North American headquarters Boulder, Co. For more information about B9 Energy Group internships, contact Mathew Ludwik, at 815.990.9039 or visit www.b9energy.co.uk. funny photos
Photo attached: Highland Community college wind tech student, Tanner Clenny. ###
_________________________
OFFICE OF COMMUNITY RELATIONS
2998 W. Pearl City Road
Freeport, IL 61032-9341
815-235-6121
Fax 815-235-6130