Highland Dedicates the Ray and Betty Stamm Health Science Nursing Wing
5/7/2009

FREEPORT� The construction of Highland Community College�s newest addition, a 13,694 square foot health science nursing wing added to the Natural Science and Health building, is now complete and will be available for students beginning in the summer 2009 semester. The wing, first proposed in 2004, will now provide nursing students with four state-of-the-art labs and three dedicated classrooms. Until now, these students utilized shared lecture hall space and one small lab to practice skills before they enter clinicals and throughout their training.
During the ceremony held May 6th, officials dedicated the new wing as the Ray and Betty Stamm Health Science Nursing Wing after donor Ray Stamm of Lena and his late wife whom he intends to honor with the contribution. �My family and I are honored to name the Health Science Nursing Wing in memory of Betty�, said Ray Stamm. �Quality healthcare and compassion, as demonstrated by her care providers, many of whom were Highland graduates, not only impressed us but made difficult endings indeed personal. Betty was an avid supporter of HCC and their students.�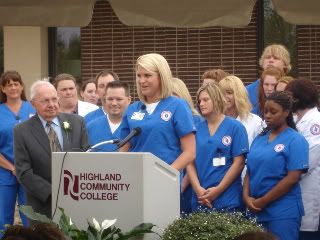 Ray Stamm and nursing students
Highland Community College president Joe Kanosky said, �This is the culmination of a plan embarked upon nearly 5 years ago. The sophisticated labs and classrooms in this new facility will help meet the increased demand to educate more nurses and other health care professionals.�
The project has gained a positive response from the health care community. FHN has contributed significant funding to help equip the new labs with sophisticated technology. The new technology, especially the patient simulator, is substantially different from the �Annie� mannequins that many people remember from CPR or other types of health care training. The SimFamily, including SimMan and SimBaby, are computer operated manikins that can present health care problems found in real emergency and clinical settings: their hearts race and their pupils dilate. funny pictures with captions
According to Dr. Shannon Lizer, Highland�s director of nursing, �This facility will provide faculty with the opportunity to teach students in a state-of- the-art nursing lab, incorporating simulation manikins and scenarios. In short, it will provide a real-world environment for practice in the profession.�
�FHN�s financial support will advance the health care training for the entire community,� said Lizer, �Not only our students, but emergency medical professionals and other health care workers, will have the opportunity to train or advance their skills in these sophisticated teaching labs. I expect this new technology will accelerate the learning curve for our students and local providers.� funny pictures
Highland, with the support of the Highland Community College Foundation, has been seeking private funds to complete the construction. The College�s longtime partner, the HCC Foundation, is spearheading a fundraising campaign titled Growing for Tomorrow�Changing Lives Today to aid the College in raising funds. �There was an urgent need to address this space shortage for such a critical program,� said HCC Foundation President and co-chair of the fundraising campaign Jim Berberet. �Healthcare is important for everyone in our community and nurses are the backbone of the system. We have been delighted by they way the community has embraced this project.�
Highland Trustees made the decision to include a green roof over the addition. The advantages of the green roof include reduced storm water run-off and improved insulation keeping the roof cooler in the summer and warmer in the winter. Additionally the green roof converts carbon dioxide to oxygen. The roof will consist of 2ft. X 2 ft. square trays of interlocking 100% post-consumer recycled plastic. The modular system allows for the removal and replacement of the 40 pound trays, which is expected to improve the long term costs and performance of the roof. A ground cover plant, Sedum, will be planted in the modules. Sedum plants are extremely drought resistant and do not require significant maintenance. funny images
Local participation and partners have made the project possible according to college officials. Winter Construction of Freeport served as the general contractor and R.L. Johnson and Associates was the architect for this project. Additionally, interim financing was made possible in part by local banks including Amcore, Citizens State Bank, First State Bank Shannon/Polo and Foresight Financial Group (including German American Bank, Lena State Bank, Northwest Bank of Rockford, State Bank and State Bank of Davis). funny photos
A pictorial history of the construction project and video of the dedication ceremony are posted on the College�s web site at www.highland.edu.
Highland Community College offers more than 60 programs of applied and transfer degrees, community education and business training. In addition to comprehensive academic programming, Highland provides theatre, art and music opportunities for the community. Highland Community College is accredited by the Higher Learning Commission and is a member of the North Central Association�s Academic Quality Improvement Program. Located in Freeport and Elizabeth, Highland is conveniently positioned in the tri-state region with access to several major metropolitan areas.
###
_________________________
OFFICE OF COMMUNITY RELATIONS
2998 W. Pearl City Road
Freeport, IL 61032-9341
815-235-6121
Fax 815-235-6130