Highland Officially Opens New Wind Turbine Technician Training Center
6/4/2009


FREEPORT�The construction of Highland Community College�s newest addition, a 5,500 square foot Wind Turbine Technician Training Center is complete. The center provides the much needed space to house the state�s first Wind Turbine Technician Associate of Applied Science degree. During the ribbon cutting ceremony held June 3, 2009, officials formally opened the facility that includes two dedicated classrooms, a sophisticated hydraulics lab and a large training �shop� that will house the equipment, components and tools needed to complete the Wind Turbine Technician training.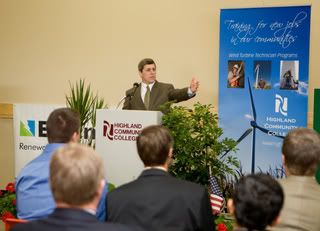 HCC Dean of Business and Technology, Scott Anderson
Students will have the unique opportunity to work on components of a turbine �nacelle� while it is indoors and on ground level. According to HCC President Dr. Joe Kanosky, �This addition will provide needed space and access to the sophisticated training required to meet the demands and expectations of the wind turbine industry.�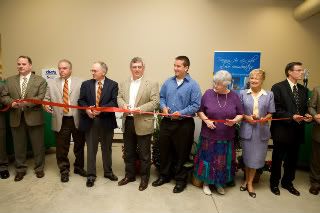 Highland Trustees and Shawn Gaffney (left), President of EcoEnergy LLC
�In planning the program, we anticipated the need for additional space,� said HCC electronics instructor Steve Gellings. �We are very excited about this new facility; it addresses the real need for a dedicated space for the unique training the students will be receiving, such as working on specialized hydraulic systems and repairing turbine blades.� funny pictures with captions
Officials celebrated the partnership that was instrumental in making the program, and facility to house it, possible. The Wind Turbine Technician program was developed in cooperation with Elgin based EcoEnergy, who provided assistance in developing curriculum and providing staff to serve as instructors for several classes. �The program would not have been possible without the key support provided by our industry partner,� said HCC president Dr. Joe Kanosky.�It is yet another example of how the College seeks to partner with local industry to provide education and training that will meet the needs of the needs of area residents and businesses.�
Shawn Gaffney, president of EcoEnergy, spoke of the need to train individuals to become qualified industry technicians. �Wind energy is the fastest-growing segment of the energy industry today,� said Gaffney. �As more wind energy facilities are developed, the need for qualified turbine techs will increase. We see that as another positive aspect of wind energy � more stable, reliable jobs for our communities.�
The new center is has been fitted with specialized tools through a partnership with Rockford-based Greenlee Textron, Inc. Officials from Greenlee assisted in a �cable joining� ceremony; crimping the cable that was cut during the building�s groundbreaking ceremony in October of 2008. �This partnership will provide Greenlee with the opportunity to work with, supply to, and foster the growing alternative energy industry in the United States,� said Ajay Chandrasekhar, a member of the Greenlee Strategy team. �This venture will directly contribute to developing a greener and stronger energy industry in northern Illinois."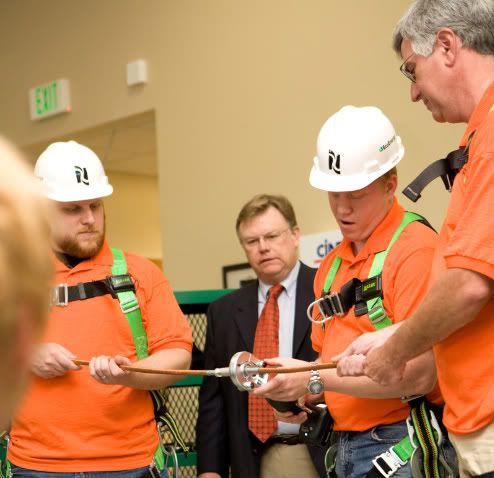 Keith Moffatt of Greenlee Textron and HCC Wind Tech students rejoining the cable funny pictures
Highland Community College continues to pursue partnerships with companies in the wind energy industry to raise funds to cover the entire cost needed to construct the facility. Public funds were not available, and the state cannot project when funding will again be possible for capital projects of this nature. Interim financing has been made possible in part by local banks including Amcore, Citizens State Bank, First State Bank Shannon/Polo and Foresight Financial Group (including German American Bank, Lena State Bank, Northwest Bank of Rockford, State Bank and State Bank of Davis). funny images
Local participation was key to the successful completion of this project according to officials. Winter Construction of Freeport was the general contractor and R.L. Johnson and Associates was the architect for this project. Photographs of the building under construction and a video of the ceremony will be posted on the College�s web site at www.highland.edu. funny photos
Highland Community College offers more than 60 programs of applied and transfer degrees, community education and business training. In addition to comprehensive academic programming, Highland provides theatre, art and music opportunities for the community. Highland Community College is accredited by the Higher Learning Commission and is a member of the North Central Association�s Academic Quality Improvement Program. Located in Freeport and Elizabeth, Highland is conveniently positioned in the tri-state region with access to several major metropolitan areas.
_________________________
OFFICE OF COMMUNITY RELATIONS
2998 W. Pearl City Road
Freeport, IL 61032-9341
815-235-6121
Fax 815-235-6130