HCC Recognizes Outstanding 2009 Graduates
5/18/2009

FREEPORT -- Highland Community College awarded 326 degrees and certificates at its annual commencement ceremony. �This commencement ceremony is obviously the culmination of our year,� said HCC president Dr. Joe Kanosky. �Our faculty and staff are dedicated to helping students succeed, so it is extremely rewarding to watch that happen.�
Highland has over 11,000 graduates and has touched the lives of thousands more through adult and community education programs. Success stories abound, and the College enjoys recognizing the students who achieved academically and those who overcame the odds to achieve their dream of earning a college degree. A graduation breakfast is traditionally held the Friday preceding graduation at which faculty members present awards to outstanding students. The 2009 recipients demonstrate the diversity of goals and interests pursued by Highland students.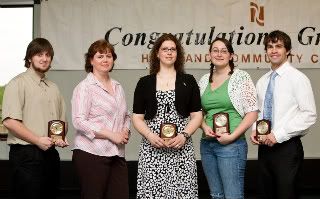 Nathan Spurlock, Mary Altfillisch, Joey Stott,
Meredith Davis and Samuel Cook
Nathan Spurlock of Lena was presented with the Fine Arts/Visual Arts Award. Nathan was an active staff member of the student newspaper, The Highland Chronicle. He also served on the production staff of The Prairie Wind magazine which contains original poetry, prose, visual art, and music contributed by students, staff, alumni, and other members of the Highland Community. A member of Phi Theta Kappa, Nathan also assisted with freshman orientation and art galleries. He plans to continue his education by going on to complete a BFA in painting and to one day teach art at the college level. funny pictures with captions
Maria Altfillisch of Galena was presented the Business Administration/Accounting Award. During her tenure at Highland Community College, Susan earned her Associate of Applied Science degree in Accounting. Susan volunteered as a member of the Galena Band Boosters, St. Michael Alter and Rosary Society, and the Galena Country Fair Society Committee. In the future she plans to complete a four-year degree in accounting.
Joey Stott of Lena was presented with the Citizenship Award. Joey has been a dynamic student leader at Highland. She served as president of Phi Theta Kappa in 2007-08 and vice president of the Student Senate in 2008-09. She also served as a mentor and tutor in the Success Center. Joey is active in the community as well; she serves as a Jo Daviess County auxiliary deputy sheriff and member of the mounted patrol. She also serves as secretary/treasurer of the Le-Aqua-na Saddle Club. Joey plans to transfer to the University of Wisconsin � Platteville to study the sciences and secondary education.
Meredith Davis of Stockton was presented the Life Science Award. Meredith, a high honors graduate and member of Phi Theta Kappa, majored in biology and plans to transfer to University of Wisconsin � Platteville to study micro-biology and genetics for forensic science. Meredith served as a biology lab assistant and micro-biology tutor. funny pictures
Samuel Cook of Hanover Park received the Nursing Award. Samuel graduated with highest honors- earning a perfect 4.0 grade point average. He also served as president of the Day Nursing Program. Samuel has worked in a variety of settings which have led him to the nursing field, including group homes for developmentally disabled adults and an orphanage in Bolivia. He plans to gain some experience working as a nurse in a hospital setting before working overseas for a non-governmental organization, providing nursing care and education.
Alexandra Hartman of Freeport was awarded the Fine Arts/Performing Arts Award. In addition to receiving high honors, �Alex� was a member of Phi Theta Kappa and involved in numerous Fine Arts ensembles and productions, including the Royal Scots, Chamber Singers, Highland Chorale, and Summerset Theatre. In the fall, Alex plans to attend Illinois State University to pursue a degree in musical theater. funny images
Dian Purnamasari of Freeport received the Liberal Arts Award. Dian is a foreign exchange student from Central Java, Indonesia. Dian completed an associate of science degree and graduated with high honors. She plans to continue her education in the field of nursing.
Carol Ellefson of Orangeville received the Vocational Technology/Information Systems Award. Carol graduated with high honors after being out of school for many years before returning to college to complete an associate of applied science in information systems. funny photos
_________________________
OFFICE OF COMMUNITY RELATIONS
2998 W. Pearl City Road
Freeport, IL 61032-9341
815-235-6121
Fax 815-235-6130