Let Us Help You Get Started in a Foreign Language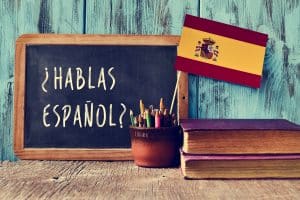 Learning Spanish will help you earn more money, converse with customers, business people, and others who speak little English.
Enhance your marketability as bilingual candidates always have an edge. Illinois has 2.2 million Spanish speakers, and the number is growing around 40% each year! 79% of American recruiters cited Spanish as the language most in demand by employers.* Workers who can speak Spanish are in demand for both low and high skilled positions. So, learning Spanish will give you a head start in having a desirable and higher paying job.
Some say you can never fully understand your native language until you can speak another language. At Highland, we help you have a wider vision on the world by discovering new traditions, holidays, and cultures. Learning Spanish will help you when you travel through Spain or Latin America meeting local Spanish speakers and enjoying a new culture.
Let us help you get started today by learning Spanish at Highland with a great student-teacher ratio taught by a native Spanish speaker who believes fun and communication should be part of learning. Just tap the button to schedule a tour and meet with the instructor.
* "Not Lost in Translation: The Growing Importance of Foreign Language Skills in the U.S. Job Market"