Home of the Cougars!
Welcome to the home of the Highland Cougars and to another exciting season. This year our teams will continue the tradition of excellence, on and off the courts. Our student-athletes are students first. Our coaches stress the importance that academics and discipline play in being successful.
Important Links
---
Cougar News
Men's Basketball 10/17/2018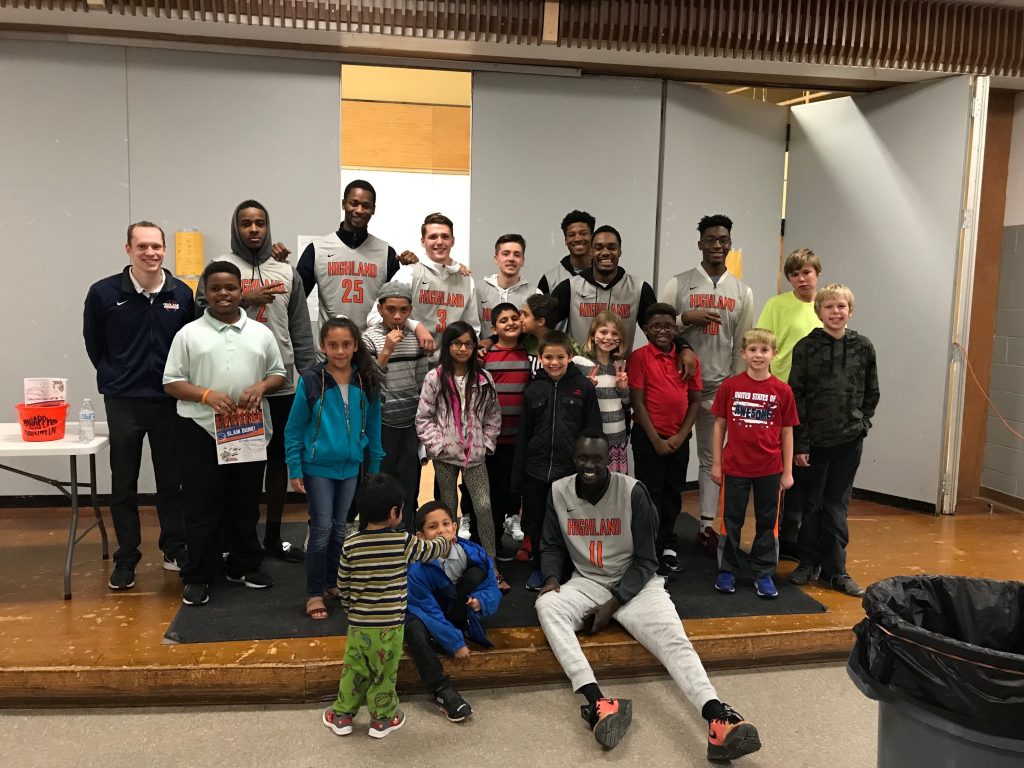 Some of the Highland Men's Basketball Team enjoyed participating in Carl Sandburg's Fall Fest.
Softball 4/19/2018
14 years later, Highland softball ace Amber Lamb still a force
Men's Basketball 4/11/2018
Jay'Quan McCloud becomes 20th All-American for Highland men's basketball
Men's Basketball 3/20/2018
Highland men's basketball team doomed by slow start in first-round exit at nationals
Men's Basketball 3/18/2018
Defense will be key for Highland at nationals
Men's Basketball 3/10/2018
College basketball:  Highland storms back to stun West Plains, advance to Nationals
2018 Region IV Tournament Men's Basketball Bracket
Women's Basketball 3/9/2018
College basketball:  Highland women fare daunting district title game task
2018 Region IV Tournament Women's Basketball Bracket
Men's Basketball 3/6/2018
Highland men beat Kankakee for Region IV Title
Women's Basketball 3/6/2018
Highland women hold off Sauk Valley to take Region IV Title
Men's Bowling 3/4/2018
Highland Men's Bowling team 2018 NJCAA National Champions!
Men's Basketball 3/3/2018
Highland mens' basketball primed for another Region IV title
Women's Basketball 3/2/2018
Newness not a problem for conference champion Highland women
Golf 2/19/2018

Highland Cougar Golf is excited to sign Jon Silvers of Byron to join the Cougar golf program. Welcome Jon to Cougar Nation and Highland.
Men's Basketball 2/13/2018
Baseball 2/13/2018
College Baseball:  Highland looks to show growth
Men's & Women's Bowling 2/7/2018
Freeport 4 Seasons to host Great Lakes Bowling Conference February 10-11, 2018
Men's Basketball 1/31/2018
College hoops:  Highland men run win streak to 10
Women's Bowling 1/30/2018
Drummer signs National Letter of Intent with Highland Community College
Men's Basketball 1/25/2018
Highland basketball player dives in to injury rehab
Men's Bowling 1/16//2018
Highland Bowling Wins Collegiate Tourney in Michigan
Men's Bowling 12/12/2017
Highland Bowling to sign top Freeport High School Recruit
---
Congratulations to Connor Hurd and his 2nd place finish in the Region
Tournament. Connor qualified for the NJCAA National Tournament at
Glenlakes Golf Club in Foley, AL May 21-24, 2018.
---