Home of the Cougars!
Welcome to the home of the Highland Cougars and to another exciting season. This year our teams will continue the tradition of excellence, on and off the courts. Our student-athletes are students first. Our coaches stress the importance that academics and discipline play in being successful.
Important Links
Click on the link below to see Highland's 2020-21 Arrowhead Conference Academic Excellence Recipients
2020-21 Arrowhead Conference Academic Excellence Recipients
Highland Men's Basketball Returns to the Court
Highland men's basketball returns to the court
Highland Men's Basketball Team helps with United We Stand Thanksgiving Dinner Box Giveaway
https://www.journalstandard.com/story/news/2020/11/16/united-we-stand-gives-out-150-thanksgiving-dinner-boxes/114965536/
Danielle Walker named Coordinator of Women's Athletics and Head Softball Coach
A Rockford, Ill. native, Walker graduated from Guilford High School in 2012. She continued her education and athletic career, spending her freshman year at Western Illinois University where she played NCAA Division I softball for the Leathernecks.
Walker transferred to Rock Valley College as a sophomore and helped the Golden Eagles to a 42-9 record while winning the 2014 National Junior College Athletic Association (NJCAA) Division III national championship. Rock Valley College also claimed the North Central Community College (N4C) Conference title with a 14-2 league record and won the Region IV Tournament while advancing to the nationals. Walker capped the season with NJCAA Division III First-Team All-American and National Fastpitch Coaches Association (NFCA) All-American First Team honors, was a first-team all-conference selection, earned first-team all-region recognition and was named a Marucci Elite Hitter.
During the final two years of Walker's collegiate career, she played NCAA Division II softball at the University of Sioux Falls. She was tabbed a second-team all-Northern Sun Intercollegiate Conference (NSIC) selection in 2015 and was also honored as the NSIC Newcomer of the Year. Walker graduated from Sioux Falls in 2016 with a bachelor's of science degree in exercise science.
From 2016-2018, she was a graduate assistant at Waldorf University, where she graduated with a Masters of Arts in organizational leadership with a concentration in sports management. After graduating she became an Assistant at Colorado Northwestern Community College and was then promoted to the interim head coach in November of 2018. During her first season as a head coach, Walker started to turn the program around from a no win season the year before to a 2-35 finish. While the 2019-2020 season was off to a start, it was cut short due to the coronavirus.
Luke Norman named Head Basketball Coach
https://www.journalstandard.com/sports/20200721/luke-norman-named-highland-basketball-coach
CONGRATULATIONS COUGAR ATHLETES!!
The Highland Cougar Athletic Department is proud to announce the following 4 Cougar athletic teams were named NJCAA Academic Teams of the Year:    
                                                  
Volleyball – 3.23 GPA
Softball – 3.42 GPA
Golf – 3.47 GPA
Men's Basketball – 3.27      
                                        
In order to be receive this prestigious honor, programs must have a team GPA of 3.0 or better.                                       
The NJCAA National Office has released the recipients of the 2019-2020 NJCAA All Academic team recipients. Twelve Highland Cougar student-athletes were selected based on their academic accomplishments during the 2019-2020 school year. The following Highland Cougars received All-Academic team recognition as follows:                                       
NJCAA All-Academic First Team: 4.00 GPA
Jadrian "JJ" Flores – Men's Basketball
Hannah Holland – Softball
Elizabeth Barton – Women's Bowling
NJCAA All-Academic Second Team: 3.80-3.99 GPA
Jonathon Silvers – Golf
Jenna Diehl – Volleyball
Javier Jazo – Golf
Ahlasia Kloepping – Volleyball
Emma Kinney – Softball
NJCAA All-Academic Third Team: 3.60-3.79 GPA
Connor Hyde – Men's Bowling
Vuk Stevanic – Men's Basketball
Maleah Linden – Volleyball
Allison Kultgen – Volleyball
Following the recent recommendations from the Center for Disease Control and Prevention (CDC), the NJCAA has made the difficult decision to cancel spring competition, effective immediately.
NJCAA Communication Link: NJCAA National Office Communication Spring Cancellation
The NJCAA is suspending all competition beginning March 14 through April 3. All Highland Cougar Athletics are on pause until April 3.
NJCAA Communication Link: NJCAA National Office Communication
Cougar News
Congratulations to our bowling team on a fantastic weekend of bowling at the NJCAA Tournament in Buffalo, NY.  The Team finished 3rd in the Nation.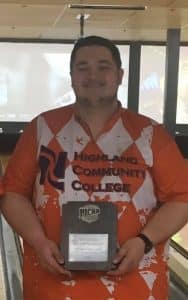 Nick Howard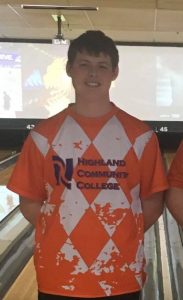 Austin Strite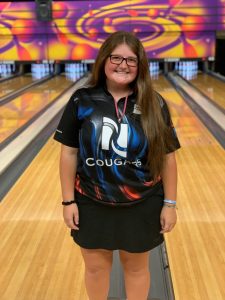 Lizzy Barton
Special mention to Nick Howard on being the NJCAA Individual All-Events Champion. Nick and Austin Strite were NJCAA Doubles Champions. Lizzy Barton and Kirstin Rood placed 4th in the NJCAA Doubles. Nick Howard and Austin Strite received All-American recognition as well. Congrats to all our bowlers!
CONGRATULATIONS COUGARS!!  REGION IV DIVISION I CHAMPS!!
The Cougars will play in Moberly, MO Saturday, March 7th at 7:00 pm.  Winner of that game will advance to the National Tournament in Hutchinson, KS.  Go Cougars!