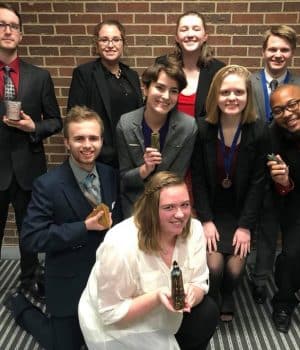 Last weekend the Highland Community College Speech
Team traveled to Palatine, IL. to compete in the Harper
College speech and debate tournament. The Harper
Tournament has a history of being one of the toughest and
most challenging tournaments of the year, outside of
Nationals. Schools from across the country make the trip to
IL to see how their speeches hold up against students
competing in the Midwest as everyone begins to prepare
their teams for Nationals. "Harper has always been hard,"
stated coach Bill Lucio. "We compete against schools from
New York, Wyoming, Kansas, sometimes even Virginia,
Texas, and Nebraska that we've never competed against all
season." Assistant Coach Brit Williams added, "I think the
reason so many out of state schools travel into the Midwest
is because this tournament allows coaches to see various
trends regarding public speaking from other regions and
provide feedback to students we don't normally see all year,
as we prepare to strengthen our students for the National
Tournament in early April." Highland's team performed
exceptionally well this year, placing fifth out of nineteen
total schools, beating four-year universities like Northern
Illinois.
Team Captains Alec Aurand took first place in
Extemporaneous Speaking and Michelle Johnson took third place
in Informative Speaking. Sophomores Tommy Tempel
was awarded second place in Informative Speaking and
Luthien Jonis took second place in both Prose and Dramatic
Interpretation. Several freshmen experienced success as well.
Lucas Boomgarden was awarded third place in group
Communication and Maggie Finazzo won first place in
Dramatic Interpretation. April Woolcock, a freshman on the
team this year expressed, "While I didn't win an award this
weekend, it was awesome to see my other teammates do so
well." Luthien Jonis, the student taking home the most trophies
from the tournament explained that, "It feels so good to
have coaches who believe in us, but their belief in us only goes
so far. We need to believe in our messages and in our abilities
to deliver good speeches. Once I did that, I started
experiencing more success." Alec Aurand piggybacked off of
Jonis' statement by adding, "This tournament was so much fun and
it was awesome to see everyone perform so well. I can't
wait to get to Nationals and keep showing the country how
good we are!"
As competitors back in 2008/2009, coaches Brit
Williams and Bill Lucio also won events at the Harper Tournament
and expressed how sentimental it was to watch their
students do so well. Lucio stated, "To see them perform so
well at a tournament that meant so much to us from our past
meant the world to me. I am so very proud of them."
If you would like to help support the HCC Speech Team as they
prepare for their National Tournament in Reno, NV, please
contact Bill Lucio at Bill.Lucio@Highland.edu