2023 Boyer Colloquium
Speaker: Dr. Pablo Toral, Professor of Environmental Studies and International Relations Department Chair of Political Science
Campus and Community Session: Climate Change, Disasters, and Human Migration
Monday, April 17, 7 p.m.
Student/Conference Center (H) and Zoom
Climate change causes a cascading chain of atmospheric events, including new patterns of precipitation, erosion, and extreme weather — challenging the resiliency of our infrastructure and lifestyles. These events have devastating impacts, forcing people to move in search of safe locations to rebuild their lives and livelihoods. The presentation will also explore the environmental, legal, political, economic, and social solutions communities have developed to manage the effects of migration.
Student Session: Planning Your Future Around Climate Change
Monday, April 17, 1 p.m.
Student/Conference Center (H) and Zoom
When people move, they cause significant changes to the communities they leave, and to the areas where they relocate. People will move from places that are vulnerable to serious weather events, resulting in weaker economies and lower living standards. The influx of newcomers in regions of relocation will put pressure on existing resources, including land, real estate, food, and public services. However, migration will also create new opportunities. As you prepare for your future, understanding what resilient communities look like will help you shape your education for a successful professional career.
Boyer Colloquium History and Vision
In 1994, Dr. M. E. Boyer, local retired veterinarian, approached Highland Community College with a challenging proposal. He wanted to provide seed money to create a program that would help students understand the inter-relationship between ethics, economics, and ecology.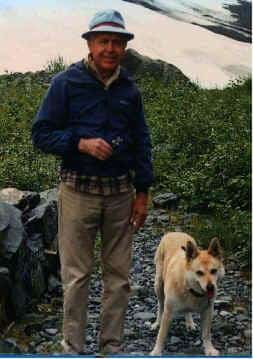 The long-time Freeport, Illinois veterinarian didn't believe that technology would solve the earth's pressing environmental problems – but that "unless we start recovering natural things more, it will damage us."
Concerned about the increasing specialization of science, Earl funded the colloquium series to bring awareness to citizens of the interaction and importance of ethics and economics to environmental concerns.
The College convened a committee consisting of faculty and administrators to come up with an idea for a program that could be presented to Dr. Boyer for his approval. After several meetings, the committee agreed on a combination of lectures by outside speakers, a class, and an essay contest. This proposal was submitted to Dr. Boyer who provided whole-hearted monetary support.
Each year, the committee chooses a slightly different theme. A prominent speaker is chosen to address the College and community in the spring. The first year's theme was "Creating A Sustainable Society" and Gordon Durnil, author of "The Making of a Conservative Environmentalist" was chosen to be the speaker. Successive years have brought numerous speakers to campus, including the esteemed environmental poet Gary Snyder and the Chairman of the Maine Public Utility Commission.
Past Boyer Colloquium Topics and Speakers
2022: The Impact of Microplastics on the Environment and Human Health
Dr. Tim Hoellein – Associate Professor at Loyola University in Chicago
Jodi Anne Flaws, Ph.D. – Professor in Comparative Biosciences at the University of Illinois Urbana-Champaign
John W. Scott – Senior Chemist at the Illinois Sustainable Technology Center at the University of Illinois
Highland Community College hosted speakers Dr. Tim Hoellein, Jodi Anne Flaws, Ph.D, and John W. Scott for discussions on how microplastics enter the environment, the ecological effects of microplastics, and the chemical effects of plastic contaminants on human health.
2021: Water, Water Everywhere: Farming and Local Community Resilience in the Face of Climate Challenges
Margaret Krome – Policy Program Director for Michael Fields Agricultural Institute
Dr. Eric Booth – Assistant Research Scientist for Hydroecology at the University of Wisconsin
Highland Community College hosted speakers Margaret Krome and Dr. Eric Booth for discussions about the impacts of climate on local agriculture and our communities. Impacts of climate challenges to farmers and the broader society were shared. Possible solutions such as soil health practices, regenerative agriculture, and agricultural policy were discussed.
2019: Research Reactors: at the Intersection of Science, Technology and Society
Dr. Julia Phillips – Member of the National Science Board, retired Vice President and Chief Technology Officer of Sandia National Laboratories
2018: Climate Change is Real – The 4th National
Climate Assessment: This is Important and Not Fake News
Dr. Donald J. Wuebbles – Professor of Atmospheric Science, University of Illinois at Champaign-Urbana
2017: Understanding and Improving Renewable Energy Materials – From Atoms and Up; Advancing Science to Meet Community Needs
Dr. Maria KY Chan – Argonne National Laboratory
2016: Climate Change, Polar Canaries, and the Upper Midwest
Dr. Ross Powell
Dr. Reed Sherer – Northern Illinois University
2015: GMOs: Threat or Promise? What's a Consumer to think?
Dr. Travis Frey – Monsanto
Dr. Stephen Moose, Plant Geneticist, University of Illinois;
Chuck Noble and Pat Trask – South Dakota farmers/activists
2014: Sustainability and Agriculture
Panel of local farmers
2013: Wildland Fire in a Changing Environment
Kelly Martin – Chief of Fire and Aviation for Yosemite National Park
2012: Endgame: an Evening with Derek Jensen
Derek Jensen – Award-winning Author and Enviornmental Activist
2011: Immigration: America's Past, Present, and Future
Dr. Erik Camayd-Freixas – Federal Interpreter; Donald Haystad – Cayton County, IA Deputy Sheriff
Dr. Daryl Watson – former Galena Historical Society Director & City Administrator; Sara Dady – Immigration Attorney
2010: A Conservationist Manifesto
Dr. Scott Russell Sanders – Author and Professor Emeritus, Indiana University
2009: The Frugal Citizen's Guide to Global Warming: How We Can Save Money, Rescue the Economy and Save the Planet, Too
Jay Butera
2008: Pain or Progress
Dr. Richard Shaten – Ph.D. in Land Resources from the University of Wisconsin, Masters degrees in Agriculture and Applied Economics, Civil and Environmental Engineering, and Energy Analysis and Policy
2007: Flying after Oil
Dr. Alex Kuhlman
2007: Local Solutions to Global Problems
Wilson Rickerson – Policy Advisor, Center for Sustainable Energy, Bronx Community College
2006: Planting Seeds for a Positive Future
Keith Blackmore – Biology and Ecology Instructor, Highland Community College
2005: Ethical, Legal, and Environmental Dimensions of Land Use
Dr. Eric Freyfogle – the Max L. Rowe Professor of Law at the University of Illinois
2004: Chemical and Cancer Risks: Challenges for Communities
Dr. Jack Herrmann – DVM, MPH, Diplomate, American College of Theriogenologists
Wendy Parker – Congressional Science Fellow, Environment and Public Works Committee, U.S. Senate
Terry Feinberg – Extension Educator, Community and Economic Development, University of Illinois Extension
2003: All You Can Eat for a $1.99 What do Consumers Want/Expect from Agriculture
Dr. Michael Duffy – Associate Director and Professor of Economics, Iowa State University Agricultural Extension
2002: Local Food Systems: The Load Less Traveled
John Hendrickson and Richard Pirog – Education Coordinator, Leopold Center for Sustainable Agriculture (Ames, IA)
2001: Land Use and Development
Gerald Estes
Jeff Mikkelsen
2000: A Tale of Two Chickens: Why Buying Locally-grown Food is Essential
Dr. Kamyar Enshayan – adjunct environmental studies professor at the University of Northern Iowa
1999: Education and Environmental Protection
Gary Gardner – Worldwatch Institute
1998: Ethics of Governmental Regulation of the Environment
Thomas Welch – Chairman of the Maine Public Utility Commission
1997: Ethics of Capitalism
Gary Snyder – Environmental Poet and Speaker
1996: Creating a Sustainable Society
Gordon Durnil – Author, "The Making of an Environmental Conservative"
---
Questions, comments, or other inquiries about the Boyer Colloquium are welcome at brendan.dutmer@highland.edu or 815-599-3493.