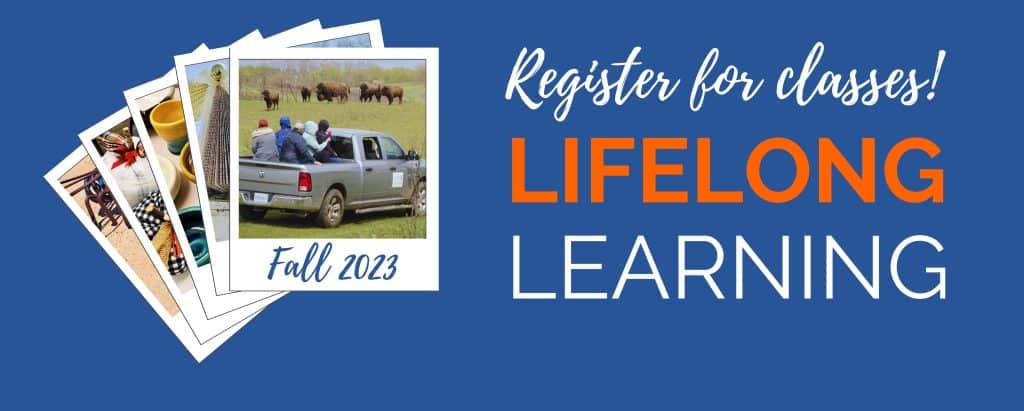 Fall 2023 Registration Opens Aug. 16!
Fall 2023 course schedule [PDF]
Click the orange "Register Now" button below to VIEW and REGISTER for spring 2023 Lifelong Learning classes using a major credit or debit card:

How to Register
Or complete the registration form, enclose your personal check and:
mail it to:
Highland Community College
c/o Admissions
2998 W. Pearl City Rd.
Freeport, IL 61032
or fax it to 815.235.6130 and Admissions staff will call you to process your payment via credit card over the phone.
or register by visiting the Admissions Office on the second floor of the Student/Conference Center on the Highland campus and make payment in person.
Like our Facebook page, HCC Lifelong Learning, for news and updates.
Online Courses through Partnerships
Through the HCC Business Institute, we offer a wide range of highly interactive courses that you can take entirely over the Internet. All of our courses are led by expert instructors, many of whom are nationally known authors. Our online courses are affordable, fun, fast, convenient, and geared just for you.
Ready to explore our catalog? Browse our catalog or check out our popular, new, and featured courses.
Tell us what courses you would like to take or teach
Tell us what courses you would like to take by completing this survey.
If you are interested in teaching, please complete this survey.
Featured courses with our online partners at Ed2go and UGotClass:
Course
Description
Fee
Registration
Beginning Conversational French –
Online
Proper pronunciation is essential for excellent communication. So, whether you intend to travel abroad or simply want to learn a fun new skill, the Beginning Conversational French course will help you master the basics of French pronunciation.
$115
Register
A-Z Grant Writing – Online
This course provides students with the hands-on experience and knowledge they need to successfully begin the planning process for projects in need of grant funding. An approach to grantseeking begins with thinking about why the funding is needed and involving the grant applicant's stakeholders in the planning process.
$115
Register
Keys to Effective Communication – Online
Become more confident, make great first impressions, get along with others, and create better personal and professional relationships. This course provides a step by step process to become a great conversationalist as you use communication to build rapport and create trust, warmth, and respect.
$115
Register
Achieving Success with Difficult People –
Online
Do you want to know how to interact with anyone, regardless of how difficult you perceive them to be? This course will give you the skills to effectively meet your needs while protecting the dignity and rights of others to form more cooperative relationships.
$115
Register
Interpersonal Communication – Online
Communication is more than just speaking, hearing, or having a good vocabulary. This course explores strategies for success in everyday interpersonal communication. You will explore clear examples of verbal and nonverbal habits, effective listening, self-concept, differences in conversational styles, and conflict management.
$115
Register
Leadership – Online
Gain the respect and admiration of others by developing your leadership skills. Even if you're not working in a leadership role, this course will teach you how to use the principles of great leaders to achieve success in your professional and personal life.
$115
Register
Grant Writing Suite – Online
This series will give you the skills you need for effective grant writing. Learn from an experienced grant writer how to best present information in grant proposals to raise needed funds. After developing a good grant writing foundation, you'll discover the steps you can take to become an in-demand grant writing consultant, including what services to offer, how to set fees, and how to find clients to start your own business.
$299
Register
Small Business Suite – Online
Learn how to be your own boss! This series will give you the information you need to start your own home-based or online business by developing the qualities of successful entrepreneurs. You will receive a step-by-step approach that will help you build a simplified strategy and attract customers with successful marketing techniques on a tight budget.
$299
Register
Introduction to Java Programming – Online
Get comfortable programming with Java while gaining skills from an experienced Java programmer. This course provides you with easy-to-understand examples and plenty of skill-building exercises using the latest version of Java to give you confidence as you learn programming.
$115
Register
Growing Plants for Fun and Profit – Online
Turn your love of plants into an enjoyable and profitable home business. This course provides information on licensing, site preparation, equipment, how and where to find supplies, how to select and produce plants, how to produce quality material, and how to market your product.
$100
Register
Click here to learn more about WIOA funding available for Career Online Training Opportunities through Ed2go.
Did you know you can purchase gift certificates for Lifelong Learning classes? Stop by the bookstore or call 815-599-3694 to pay with a credit card over the phone.