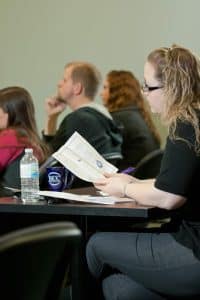 Success Center, Marvin-Burt Liberal Arts Center,
First Floor
Main 815.599.3605, TDD 815.235.9584,
FAX 815.599.3646
We are excited you have decided to become a part of the Cougar community at Highland Community College! The mission of Disability Services is to create an accessible, inclusive, sustainable learning environment, where disability is recognized as an aspect of diversity that is integral to the campus community and to society.
The goals and objectives of Disability Services are to:
Promote and facilitate access through creative outreach and training, collaborative partnerships, innovative programs, and pro-active solutions;
Create inclusive environments by engaging and supporting the campus community in progressive system change;
Increase the recruitment, transition, retention and graduation of students with disabilities;
Consult regarding reducing barriers for persons with disabilities; and
Ensure the effective delivery of accommodations.
Disability Services is a part of the Success Center and students with disabilities are an important part of the diversity at HCC and we encourage you to become actively engaged with your learning experiences at Highland. Any time you have questions or concerns, you are welcome to contact any one of the staff within Disability Services.
---
Disability Services at HCC
Testing Accommodations Request Form – Use this quick link to request testing accommodations – NEW
Disability Services Student Referral – Completed by Faculty, Staff or Community Agencies
Disability Services Handbook – Download and print the HCC Disability Services handbook
First Steps to Service – Mission statement and Steps on Beginning the Process
ADA and 504 Compliance – Legal Information and ADA-Related Complaint Process
Documentation – Review of Required Documentation for Disability Service Eligibility
Accommodations – Academic & Testing
Self-Help Resources – Outside organizations assisting with ADA 'Services'
Specialized Services
Interpretation and Captioning Guidelines
---
Disability Services Staff