About the Board of Trustees
The Highland Community College Board of Trustees is a governing body consisting of seven members elected by the citizens in the Highland district, and a student representative elected by the student body. Trustees are responsible for hiring the College President, approving other full-time appointments and positions, and establishing policy for the financing, governance, operation, and administration of the College. The Board of Trustees delegates responsibility to the administration, faculty and staff for the practices and procedures that accomplish the mission of the college. The legal statutes guiding the operation of the College are found in the Illinois Public Community College Act.
The meetings are open to the public and normally held in the Robert J. Rimington Board Room (H-228) on the Highland campus.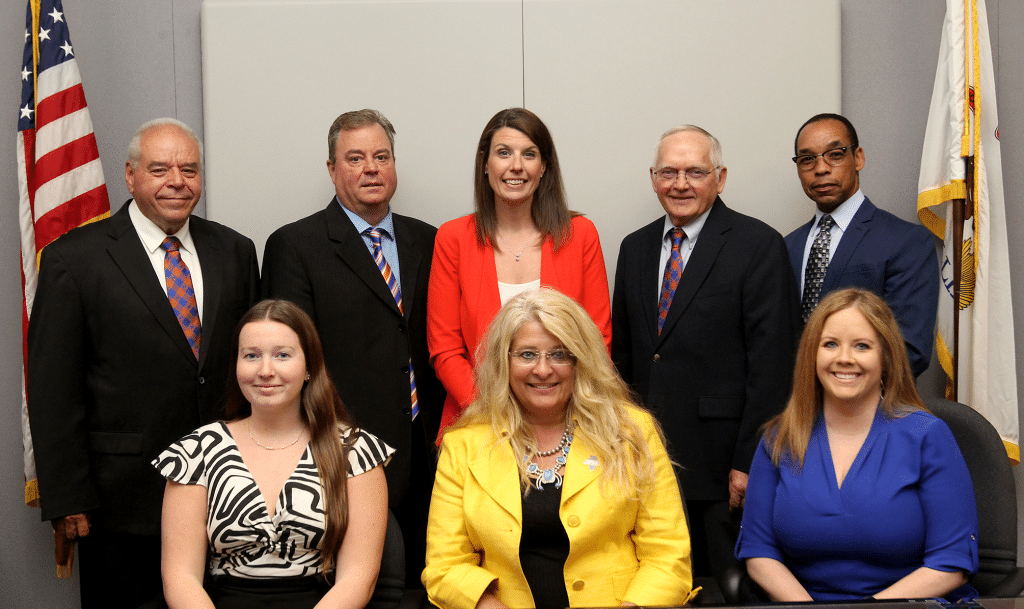 2023 – 2024 Board of Trustees
Front row: Allison Coon (Student Trustee), Pennie Groezinger (Vice Chair),
Mary Kaufman
Back row: Jim Endress (Chair), Shawn Boldt, Sarah Kuhlemeier, Doug Block,
James Rhyne Jr.
Audit & Finance Committee
Shawn Boldt (Chair), Doug Block, Jim Endress, Mary Kaufman
Decennial Committee
Trustees Jim Endress (Chair), Doug Block, Pennie Groezinger, Shawn Boldt,
James Rhyne Jr., Sarah Kuhlemeier, Mary Kaufman, Student Trustee Allison Coon, President Chris Kuberski, Board Secretary Terri Grimes, Board Treasurer Jill Janssen, and Community Members Craig Knaack, David Schmit, Rob Urish, Mark Williams

Highland Community College Board of Trustees Leadership Training
Highland Community College Board of Trustees Archives
Board Agendas and Approved Minutes
Fiscal Year 2020
July 23, 2019  agenda budget work session minutes minutes handout 1 handout 2 handout 3 handout 4 handout 5
July 31, 2019 Presidential Annual Review Committee  agenda CANCELLED
August 21, 2019 Presidential Annual Review Committee  agenda minutes
August 27, 2019  agenda minutes
September 24, 2019  agenda minutes budget work session minutes
October 2, 2019 Presidential Annual Review Committee  agenda minutes
October 22, 2019 Audit & Finance Committee  agenda minutes
October 22, 2019  agenda handout minutes
October 22, 2019 Presidential Annual Review Committee  agenda minutes
November 6, 2019 Presidential Annual Review Committee  CANCELLED
November 26, 2019  agenda minutes
December 12, 2019 Special Meeting  agenda minutes
December (no regular meeting)
January 28, 2020  agenda minutes
February 18, 2020 Special Meeting  agenda minutes
February 25, 2020 Special Meeting  agenda minutes
February 25, 2020  agenda minutes
March 11, 2020 Audit & Finance Committee  agenda minutes
March 31, 2020  CANCELLED
April 21, 2020 (third Tuesday)  CANCELLED
April 23, 2020 Special Meeting  agenda minutes
April 30, 2020 Special Meeting  agenda minutes
May 7, 2020 Special Meeting  agenda Zoom link minutes
May 21, 2020  agenda President's contract Zoom link minutes handout
June 23, 2020  agenda Zoom link handout minutes video link
Fiscal Year 2021
July 23, 2020 Audit & Finance Committee agenda Zoom link minutes video link
July 28, 2020 Budget Work Session  agenda  Zoom link CANCELLED — Rescheduled for August 6
July 28, 2020  agenda pages 1-47  48-80  81-119  120-166  Faculty contract
    Zoom link CANCELLED — Rescheduled for August 6
August 6, 2020 Budget Work Session  agenda Zoom link minutes video link
August 6, 2020  agenda pages 1-47 48-85 86-120 121-167 Faculty contract
Zoom link handout minutes video link
August 25, 2020 agenda Zoom link minutes video link
September 22, 2020 Budget Work Session agenda minutes Zoom link video link
September 22, 2020 agenda minutes pages 1-32 33-76 77-131 Zoom link video link        
October 27, 2020  Audit & Finance Committee  agenda  Zoom link minutes video link
October 27, 2020  agenda Zoom link minutes video link
November 24, 2020  agenda Zoom link minutes video link
December 15, 2020 Special Meeting  agenda Zoom link handout 1 handout 2
handout 3 minutes video link
December (no regular meeting)
January 26, 2021  agenda Zoom link  cancelled due to inclement weather
February 4, 2021 (rescheduled from January 26, 2021)  agenda Zoom link
cancelled due to inclement weather
February 11, 2021 (rescheduled from February 4, 2021)  agenda Zoom link  minutes video link
February 23, 2021  (regular meeting cancelled; replaced with retreat — see below)
March 23, 2021 Audit & Finance Committee  agenda Zoom link minutes  video link
March 23, 2021  agenda Zoom link minutes video link
April 7, 2021 Trustee Vacancy Committee  agenda Zoom link minutes video link
April 22, 2021 Trustee Vacancy Committee  agenda Zoom link minutes video link
April 27, 2021  agenda pages 1-57 58-102 103-134 135-171 Zoom link 
handout 1 handout 2 minutes video link
May 20, 2021 Special Meeting  (new trustee orientation) agenda Zoom link minutes video link
May 25, 2021 agenda pages 1-58 59-113 114-155 Zoom link handout 1 handout 2 minutes video link
June 22, 2021 agenda pages 1-53 54-104 105-161 Zoom link minutes video link
June 30, 2021 Special Meeting agenda Zoom link minutes video link
Fiscal Year 2022
July 20, 2021 Audit & Finance Committee agenda Zoom link minutes video link
July 27, 2021 Budget Work Session agenda Zoom link minutes video link
July 27, 2021 agenda Zoom link handout minutes video link
August 17, 2021 agenda Zoom link minutes video link 
September 28, 2021 Budget Work Session  agenda Zoom link minutes video link
September 28, 2021  agenda Zoom link handout minutes video link
October 26, 2021 Special Meeting (Higher Learning Commission) agenda Zoom link video link
October 26, 2021 Audit & Finance Committee meeting CANCELLED
October 26, 2021 CANCELLED
November 2, 2021  (rescheduled from October 26, 2021) agenda Zoom link minutes video link
November 23, 2021  agenda President's contract Custodial Maintenance contract Zoom link minutes video link
January 25, 2022  agenda Zoom link handout minutes video link
February 22, 2022  agenda Zoom link cancelled due to potential inclement weather; rescheduled for February 23, 2022 
February 23, 2022  agenda Zoom link handout 1 handout 2 handout 3 handout 4 minutes video link
March 22, 2022 Audit & Finance Committee  agenda Zoom link minutes video link
March 22, 2022  agenda Zoom link minutes video link
April 26, 2022  agenda Zoom link handout 1 minutes video link
May 24, 2022 Audit & Finance Committee  agenda Zoom link minutes video link
May 24, 2022  agenda Zoom link minutes video link
June 28, 2022  agenda Zoom link handout 1 handout 2 minutes video link
Fiscal Year 2023
July 26, 2022 Budget Work Session – cancelled; rescheduled to August 16
July 26, 2022 – cancelled; rescheduled to August 16
August 16, 2022 Budget Work Session  agenda Zoom link minutes video link
August 16, 2022  agenda Zoom link handout 1 minutes video link
September 27, 2022 Budget Work Session agenda Zoom link handout 1 minutes video link
September 27, 2022 agenda Zoom link handout 1 minutes video link
October 18, 2022 Audit & Finance Committee – cancelled
October 18, 2022 agenda pages 1-59 60-109 110-147 Zoom link minutes video link
November 22, 2022 Audit & Finance Committee agenda Zoom link minutes video link
November 22, 2022 agenda pages 1-47 48-90 91-138 President's contract Custodial Maintenance contract Zoom link minutes video link
January 10, 2023 special meeting agenda Zoom link minutes video link
January 24, 2023  agenda Zoom link minutes video link
February 28, 2023  agenda Zoom link minutes handout 1 handout 2 handout 3 
handout 4 handout 5 video link
March 28, 2023 regular meeting canceled; combined with March 30 retreat
March 30, 2023 combined with March 30 retreat; see agenda below
April 25, 2023  agenda Zoom link handout 1 handout minutes video link
May 23, 2023 Audit & Finance Committee agenda Zoom link minutes
May 23, 2023 agenda pages 1-59 60-99 Zoom link minutes
Fiscal Year 2024
July 25, 2023 Budget Work Session  agenda Zoom link minutes
July 25, 2023  agenda President's contract Zoom link minutes
August 2, 2023 Special Meeting agenda faculty contract Zoom link
August 22, 2023 Decennial Committee agenda Zoom link
August 22, 2023 agenda Zoom link
September 26, 2023 Budget Work Session agenda
September 26, 2023 agenda pages 1-33 34-65 66-115
October 24, 2023 Audit & Finance Committee
October 24, 2023
November 28, 2023 Decennial Committee
November 28, 2023
January 23, 2024
February 27, 2024
March 26, 2024
April 23, 2024
May 28, 2024
Fiscal Year 2025
July 23, 2024
August 27, 2024
September 24, 2024
October 15, 2024
November 26, 2024
January 28, 2025
February 25, 2025
March 25, 2025
April 22, 2025
HCC Board Retreats
September 12, 2019  agenda minutes
December 12, 2019  agenda handout minutes
June 11, 2020  agenda Zoom link minutes
September 9, 2020  agenda minutes Custodial/Maintenance contract Zoom link handout video link
December 10, 2020  agenda Zoom link handout 1 handout 2 handout 3 minutes video link
February 23, 2021  agenda Zoom link handout 1 handout 2 handout 3 handout 4 minutes video link
June 10, 2021  agenda Zoom link minutes video link
September 8, 2021  agenda Zoom link minutes video link
December 8, 2021  agenda Zoom link minutes video link
March 9, 2022  agenda Zoom link minutes video link
June 8, 2022 agenda Zoom link minutes video link
September 14, 2022  agenda Zoom link minutes video link 
December 14, 2022  agenda Zoom link canceled – rescheduled to December 20, 2022
December 20, 2022  agenda Zoom link minutes video link
March 8, 2023 canceled
March 30, 2023 agenda pages 1-41 42-110 Zoom link minutes video link President's evaluation instrument
June 21, 2023 agenda Zoom link handout minutes
September 13, 2023 agenda Zoom link
December 14, 2023
March 14, 2024
June 13, 2024
September 12, 2024
December 12, 2024
March 13, 2025