The Agriculture program at Highland Community College can take students down multiple paths and earn them associate of science degree in several including agribusiness, animal science, crop & soil science, horticulture, agricultural education, and food science.
Agribusiness
Agribusiness connects the business world with agriculture by teaching computer, marketing, finance, policy, and management skills to students.  Students apply these skills to various roles within agribusiness, both locally and globally.
Career options include:
Marketing Specialist
Financial Analyst
Commodity Merchandiser
Agricultural Loan Officer
Retailer Branch Manager
Sales Representatives
Supply Chain Manager
Credit Analyst
Animal Science
Animal Science provides students with the opportunity to work with animals or the products that come from animals. Students will learn how to keep animals healthy while studying animal development, nutrition, and genetics.
Career options include:
Animal Nutritionist
Heard Manager
Meat Inspector
Animal Geneticist
Livestock Grader
Artificial Inseminator
Feedmill Operator
Veterinary
Crop & Soil Science
Students studying Crop & Soil Science learn about plants and their impact on the world as well as how the world's growing population is fed while keeping that food safe. Students learn problem solving skills that are used to develop insect resistant crops and find ways to grow more food in less space.
Careers options include:
Agronomist
Entomologist
Plant Breeder
Plant Geneticist
Plant Pathologist
Soil Scientist
Weed Scientist
Crop Producer
Horticulture
Students who select a pathway in Horticulture will learn everything from production to marketing of fruits, vegetables, flowers, and ornamental plants. Students will learn about the impact horticulture has on their daily lives in well being and nutrition.
Career options include:
Florist
Fruit Tree Producer
Golf Course Superintendent
Greenhouse Manager
Horticulture Instructor
Landscape Designer
Viticulturist
Vegetable Grower
Agricultural Education
Students working toward a career in Agricultural Education learn how to effectively inform students and citizens about the importance of agriculture.  Educators creatively communicate information about the science, technology, and business of agriculture. The classroom learning environment includes instruction, public events, and social media. Classes will prepare students for a career in not only education but in public service while developing leadership, personal growth, and career success.
Careers options include:
Agriculture Science Teacher
College Recruiter
Extension Faculty
Career Counselor
Agriculture Journalist
Ag in the Classroom Coordinator
College Professor
Radio/Television Broadcaster
Food Science
Food Science students learn about the physical, biological, and chemical makeup of food to begin a career improving food safety, developing new flavors, and enhancing the nutritional value and shelf-life of our favorite foods. Students have the opportunity to learn about health and food safety as well as product packaging and sales.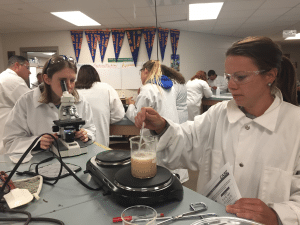 Career options include:
Flavor Technologist
Food Safety Specialist
Food Inspector
Packing Engineer
Nutritionalist/dietician
Quality Assurance Manager
Product Development Food Scientist
Food Production Supervisor
Majors
Agriculture Management- AAS
Agriculture Production – Certificate
General Ag emphasis
Dairy Milker emphasis
Agri-Business Management Program Outcomes
Crop Management Program Outcomes
Dairy Livestock Management Program Outcomes
Degrees
Associate of Science
Certificate
Associate of Applied Science
Contact Agriculture Department
Our Agriculture Faculty
Justin Ebert, Agriculture faculty
Monica Pierce, Agriculture faculty
Joe Grove, Economics faculty
Scholarship Opportunities
View all of our scholarships here.