Engineering
Highland students enrolled in Engineering are taking courses to provide the first two years of a 4-year baccalaureate program. This major will study mathematics and science with the intent of applying the principles of those fields to the design and construction of useful devices and structures. Specialty areas of engineering include aeronautical, agricultural, biological, chemical, civil, computer, electrical, industrial, manufacturing, material, mechanical, mining, and nuclear.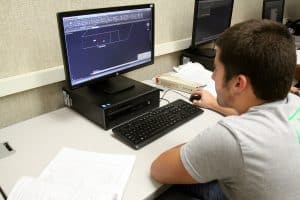 Those interested in engineering should have an aptitude for science, mathematics, problem-solving, and versatility. Good verbal and written skills and the ability to work on a team are also needed.
Career Field
Students in the engineering field learn vital technical skills and train for workplace entry. Engineers work in settings such as manufacturing industries, research facilities,         consulting firms, and governmental agencies. Engineering technology students should have interest in making accurate observations and measurements.
Engineering Contacts
David Esch, Physics Instructor
Stephen Mihina, Math Instructor
Aaron Sargent, Industrial Manufacturing Instructor
Thedford Jackson, Transfer Coordinator/Student Advisor
Dr. Brendan Dutmer, Associate Dean, Natural Science and Mathematics
Majors
Engineering – AES (Program Outcome)
Engineering Technology – AS (Program Outcome)
Degrees
Associate of Engineering Science
Associate of Science
View all of our scholarships here.
---
Pre-Engineering
Start your Engineering Career at Highland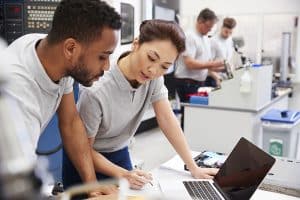 The Pre-Engineering Program is designed for students who are interested in a career in Engineering. A student entering the pre-engineering program concentrates on completing courses in mathematics, physics, chemistry, communications, and humanities. After graduating the second year, you can transfer to the engineering school of your choice to complete a baccalaureate degree in engineering.
Students will increase their knowledge in math and science giving them a broad knowledge base for their future engineering studies. Students will be able to successfully navigate paths of Mechanical Engineering, Civil Engineering, Electrical Engineering, or other Engineering fields.