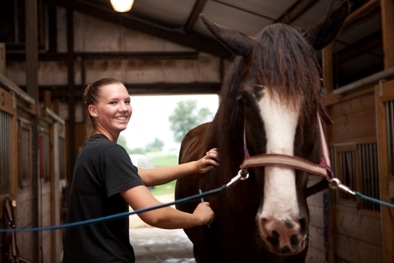 Majors
Equine Science – AAS (Program Outcomes)
Equine Science –Certificate (Program Outcomes)
Equine Massage Therapist – Certificate
Equine Riding Instructor – Certificate
Equine Stable Manager – Certificate
Degrees
Associate of Applied Science
Certificate
Equine Science
This program is designed to prepare students for careers in equine facility management with fundamental horse care, horse handling, horse training, riding, stable management and riding instruction included. Current employees and horse and equine facility owners as well as students with no former experience have the possibility to gain knowledge and experience by completing this degree and becoming an equine facility manager
There is also the possibility to take separate courses which can be used to obtain one or more certificates. Credits earned for the certificates can be used toward the completion of the Associates of Equine Science in Applied Science. Non-associate degree seeking students are provided with a possibility to obtain certificates in General Equine Science, Stable Management, Riding Instruction and Equine Massage Therapy allowing for entry level careers as Stable Managers, Riding Instructors or Equine Massage Therapists
While the program includes a significant amount of classroom delivery, in many cases the courses will be held off campus to provide the student with as much direct contact with the equine environment as possible. Students currently use the facilities of Haywire Farms in Galena and Country View Equestrian Center in Monroe.
Possible Career Paths
Careers in the equine industry are varied in nature and requirements. There are positions requiring considerable versatility, such as within in a small privately owned facility with only a few employees. Other positions are more specialized and are generally found in large, complex operations.
Equine Science Contacts
Scott Anderson, Vice President: Business, Technology, and Community Programs
Vicki Schulz, Student Advisor
Equine Science Scholarship Opportunities
View all of our scholarships here.
---
Related Classes