Truck Driver Training
T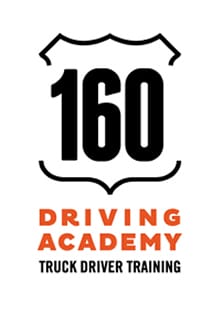 rain to earn your Commercial Driver's License (CDL) and prepare for a career in the trucking industry, one of the fastest growing industries in the country. With over 300,000 truck driving jobs available in the United States, this course is designed for students with little or no commercial driving experience.
The Highland Community College Truck Driver Training Course, provided by the 160 Driving Academy, includes everything you need to earn a CDL and find your first job as a truck driver.
After successful completion of the four-week course you will take the Secretary of State administered Class A test and receive a certificate from 160 Driving Academy as well as an Illinois Commercial Driver's License from the Secretary of State. Most importantly, our staff will work with our numerous trucking partners to secure job placement for you. Courses start every Monday and school runs Monday-Friday 8:00 a.m. to 4:30 p.m.
160 Driving Academy Program Outcomes
FREEPORT / HIGHLAND COMMUNITY COLLEGE LOCATION
160 Driving Academy is pleased to have a classroom and driving course located on the campus of Highland Community College, 2998 W. Pearl City Rd., Building R, Freeport, Il.
NO COST CDL WITH GUARANTEED JOB PLACEMENT
160 Driving Academy has unique partnerships with multiple truck companies that will enable you to attend school and obtain a CDL for no-cost and with guaranteed job placement. Please call 815.599.3418 and ask about this unique opportunity and see if you can qualify.
VETERANS
Veterans who qualify under the Post 9/11 GI Bill or Illinois Veterans Grant may be eligible for benefits to help with the cost of the truck-driver training program. Veterans may be responsible for additional course fees depending on eligibility and benefits available.
UNEMPLOYED/UNDEREMPLOYED
If your unemployed or underemployed, ask about special funding opportunities that may enable you to enroll in our course and obtain a CDL for no-cost through WIOA or other Governmental funding that may be available.
SUCCESS STORY
Another successful story — "My husband was instructed by Tim in South Holland. He struggled so much with learning how to drive a semi. But his instructor didn't give up on him and he passed. He speaks of Tim to this day and I just wanted to say thank you from the bottom of my heart for giving my husband the guidance and education he needed to finally have a career he is proud of. Your school saved our family."
Contact us at 815.599.3418 or E-mail: kblomberg@160drivingacademy.com for more information on how we can help meet your training needs.
---
Related Classes