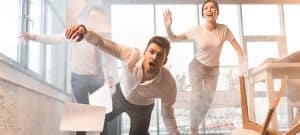 Don't know what you're doing next year? You're not alone, and it's NOT TOO LATE!
Come visit Highland Community College and explore the beautiful 140-acre campus. Take a tour of the seven classroom buildings, experience the YMCA sports complex at a basketball game played by one of the top ten Junior College teams in the nation, or ask one of the 6,00 attending students why HCC is the right college for you.
In addition to offering comprehensive academic programming with over 60 degrees and certificates, Highland is a beacon of cultural opportunity. Our theatre, arts, music, literature and lecture series are popular throughout the area. And our Cougars have a strong record of athletic successes.
Get registered for classes today and figure out your career path while paying the lowest tuition in the tri-state area.