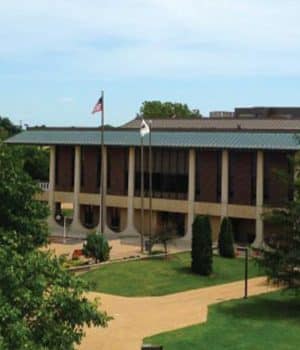 Highland Community College Foundation continues success in its corporate partnership program with more than $100,000 contributed from local businesses.
"The Corporate Partnership Program shows our local community businesses' belief in the Mission of Highland and our most important asset — our students," said Dan Dick, Executive Director of the Foundation. "Each year these partnerships grow stronger, and we look forward to further building these relationships this next year with our important leaders throughout the region."
Increasingly, businesses are discovering the benefits of building long-term, strategic, symbiotic relationships with colleges and universities. As a corporate partner with Highland, businesses find value in stewardship, campus sponsorship and Foundation event participation.
Thirty-five Corporate Partners at four different levels have contributed resources, supporting the Foundation's mission to provide scholarships to students and extend the reach of Highland's district across Stephenson, Ogle, Jo Daviess and Carroll counties.
The program includes business recognition at all HCC Foundation Events, such as the recent Leadership Golf Outing this month and the upcoming spring Legacy Gala, theatre and cultural events, and many other activities held on campus. Exclusive opportunities to network with other business leaders and share visionary ideas with the HCC leadership are integral aspects of the program.
"Supporting Highland Community College is important to me personally and to First OnSite as a corporate partner," said Tom Keyes, Regional Manager of First OnSite in Freeport. "It gives us an opportunity to positively impact the lives of students, and also, help strengthen our region through education and workforce investment."
Major Corporate Partnership Program sponsors for the 2023-24 year are:
Helm Group, Inc.
Inertia Machine Corporation
Morse Group
Seaga Manufacturing Inc.
Winter Construction, Inc.
Woodbine Bend Inc.
Bocker Auto Group
Citizens State Bank of Lena
FHN
Illinois Bank & Trust
Savant Capital Management
Solutions Bank
Union Savings Bank
Highland also welcomes the support of 22 other generous companies. For a full listing, please visit highland.edu/foundation/sponsorship. To inquire about the Foundation's Corporate Partner Program, email foundation@highland.edu.