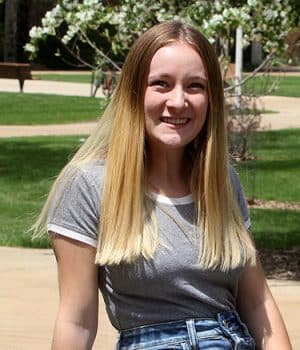 On May 19, the first Hospitality students will walk across the stage during commencement at Highland Community College to receive an Associate of Applied Science in Hospitality Management degree. During their time in the program, these graduates have also received state/national certification in BASSETT (Beverage Alcohol Sellers and Servers Education and Training) and Sanitation.
In 2015, Highland Community College began to offer the Hospitality Management program to create pathways for individuals pursuing a career in service-related fields such as hotel and hospitality management. The two-year applied science degree, created in partnership with the Swift Hospitality Group, is designed to prepare students for positions as front desk managers, food and beverage managers, sales coordinators, bartenders, servers and maintenance supervisors.
"Even though many of our graduates and current students are already working in the hospitality field during their time at Highland, it is very exciting to see this first group of graduates as they move on, no matter if they are going into traditional hospitality positions, or any other field where they can apply the skills learned in our program," said Evan Talbert, instructor.
Lydia Smith of Warren and Kaitlyn Reifsteck of Davis are two of the graduates who will receive their degrees from Highland. Smith began her studies at the inception of the program and said she is honored to be among the first graduates.
Smith will further her education at Clarke College in Dubuque, Iowa in the fall. She plans to study investment planning, with hopes of owning her own business in the future.
"It's awesome to be part of this new program and my studies at Highland have given me such insight into the future," Smith said. "My courses have been helpful in all areas that go with working in the hospitality business and also knowing the business end. I'm ready to go forward with my studies, and Highland offered me a great start."
Reifsteck said, "I am honored to be one of the first graduates from the Hospitality Program. This program is unique. You cover a lot of different things in two years. You get a lot of different ideas for future jobs, and there is really something for everyone. Not only do you get the in-class aspect, you also have to do an internship, and events throughout the semester that give hands-on experience."
Photo Caption: Lydia Smith of Warren will be among the first graduates with an Associate of Applied Science degree in Hospitality from Highland Community College.