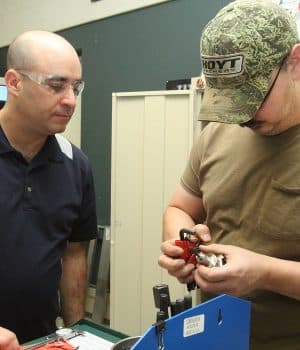 The Gene Haas Foundation believes in educating people in career and technical education programs, which results in high student achievement and aids in advancing students' education and a globally competitive workforce. Highland students are among the most productive, innovative, and dedicated students. The College recognizes their achievements by providing scholarships to further their education.
The scholarship consists of several $1,000 and $500 awards for future Computer Numeric Controlled (CNC) students at Highland Community College. The student must be enrolled in one of the following classes to qualify:
Machine Processes I
CNC Mill
CNC Lathe
Advanced CNC Machining
At Highland, students can earn a certificate or degree in Industrial Manufacturing as a CNC Machinist. CNC technology guides the cutting tool on machines such as CNC lathes, CNC mills, CNC grinders, waterjets, and laser-cutters. In general, machinists produce precision parts from a wide variety of materials utilizing these machine tools. Those with the right skills are ready for immediate employment.
"Highland's CNC program has grown in recent years and area employers continue to seek qualified CNC machinists," said Aaron Sargent, Industrial Manufacturing Instructor. "We have two certificates and a two-year AAS Degree with an emphasis on CNC machining. Our relationship with area manufactures is strong and graduates of our CNC programs have great success in finding employment with companies inside and outside of Highland's district."
Instructors are fluent in CNC machine setup and processes. Skills in combination with entry-level knowledge of welding, electronics, and automation will prepare students with knowledge for employment in manufacturing facilities utilizing CNC machining or CAD-related work.
Recipients of the Gene Haas Foundation Scholarship for Fall 2020 thus far are:
Ben Heise, Home School
Andrew McKenna, Eastland High School
Brenden Westphal, Stockton High School
Baylee Wiemken, Polo High School
Lillian Collins, Freeport High School
More scholarship dollars remain for the 2020-21 school year. For more information on this scholarship, visit highland.edu/admissions/financial-aid/scholarships.
For more information about Highland Community College or to schedule a tour call 815-599-3414, or go to highland.edu/admissions/schedule-a-tour.