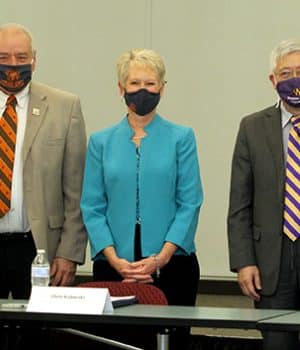 Highland Community College and Western Illinois University signed an agreement to create an education pathway from high school through college for completion of a Bachelor's degree in Elementary Education with Western Illinois University (WIU).
The agreement will provide an opportunity for area students to begin the Elementary Education Pathway at high schools via dual credit, complete an Associate of Arts Degree at Highland, and complete the Bachelor of Education in Elementary Education from WIU on Highland's campus. Students who have already completed their associate's degree are also eligible for this pathway to education.
"High school students can begin this educational pathway by taking dual credit courses through Highland, complete their Associate of Arts degree at Highland, and then transfer to Western Illinois University to complete their Bachelor of Arts degree in Elementary Education without ever leaving the area," said Chris Kuberski, president of Highland Community College.
By creating this partnership with WIU and local high schools, Highland provides students the opportunity to complete their coursework and student teaching without leaving the region. The pathway program is a true "grow your own" approach to identifying qualified teachers who will invest their talents within the region.
"This agreement addresses the regional shortage of qualified elementary teachers," said Kuberski.
According to the Illinois State Board of Education, currently, there are 1,984 unfilled teaching positions. Thirty of these vacancies are in Carroll, Jo Daviess, Lee, Ogle, Stephenson, and Whiteside counties.
Chris Shockey, Director of Human Resources for the Freeport School District, said, "This partnership will have such an impact with the students of northwest Illinois. The agreement will help us put certified teachers in the classroom. This is huge for our students, which will make an impact in their lives. This agreement does that."
Dr. Guiyou Huang, president of Western Illinois University, said, "We are proud to be part of an agreement that does a lot of good for students from high school to Highland to Western. It's three steps that can affect the communities of northwest Illinois."
Jim Phillips, Highland Community College dean, humanities, social sciences and fine arts, thanked Western Illinois University and Highland Community College faculty, staff, and administrators who worked to make the elementary education teacher partnership a reality. "This is truly an amazing opportunity for our students," he said.
Area high school students should talk to their school counselor about the HCC dual credit education pathway program. The education pathway program is also available to graduating seniors and adult students. To learn more or schedule a tour, go to highland.edu/new-students or call 815-599-3414.
Photo caption: (l-r): Jim Endress, Highland Board of Trustees Chair; Chris Kuberski, Highland President; and Dr. Guiyou Huang, President of Western Illinois University