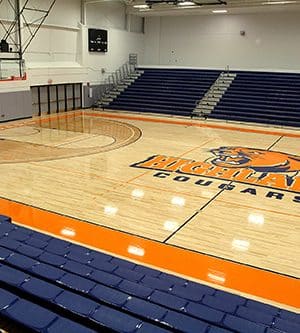 Highland Community College has unveiled the complete gym renovation which included new wood flooring, bleachers, scoreboard, and air-conditioning to the Sports Complex.
The total project cost $1,162,000, came in $23,000 under budget. The renovation became necessary after a 2018, campus-wide environmental testing that included testing of the gym floors for hazardous material such as Mercury, and was found to be off-gassing which required immediate action.
Upon further study, the bleachers were not found to be American with Disabilities Act (ADA) compliant, making it an optimal time to also replace the bleachers bringing them up to the most safety and ADA accessibility codes. This portion of the project was funded through the Protection, Health, and Safety funds, which are part of the College's tax levy. The College was able to maintain its overall tax rate due to fluctuations in other portions of the tax levy.
The original sports complex was built in 1979 and was not equipped with air-conditioning in either the main gym or the practice gym. Over the years, there have been issues with condensation on the floor in the main gym, especially during competition events. Funding for the air conditioning did not qualify as a Protection, Health, and Safety project, but rather came from the College's recent bond issuance, which includes other forthcoming projects.
"It is a very exciting time for Highland and Cougar Nation with the completion of our renovated gymnasium," said Pete Norman, Highland Athletic Director. "It is no secret we have needed a new gym floor and overall renovation for many decades. I have pushed for the last 25 years to get this done and I am very grateful for all that played a role in making this possible."
Norman added, "It is beautiful and something our program, coaches, players, future recruits, and Cougar Nation so richly deserve. It is also symbolic of a new generation taking over and keeping the Cougars a nationally recognized and competitive program."
The absence of air-conditioning also made time spent in the gym during other events such as graduation less tolerable in the summer months.
New graphics for the Highland Cougar logo on the gym floor was designed by Josh Elliott of Elliott Graphix in Freeport.