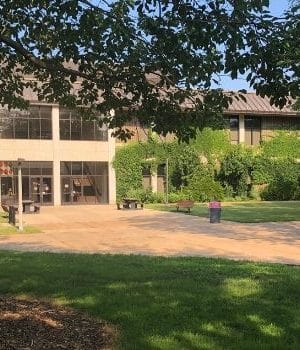 The Highland Community College Foundation distributed approximately $200,000 to Highland students for the 2020-21 academic year with more than 1,284 applications, which is a 33 percent increase over last year. The students submitting applications came from 27 area and three international high schools.
Scholarships were awarded to 198 individuals from 120 various scholarship funds. More than
$8.5 million has been distributed to Highland students since the Foundation was formed. The first scholarships were awarded in 1963 for a total of $4,000. Some scholarships are based on merit and financial need; others are awarded to students based on high school attendance and field of study.
The following scholarship recipients were recognized:
Aquin High School:Hope Gastel, Freeport Rural Fire Department Memorial Scholarship; Gavin Hunziker, CollegeNow (HCC Foundation); Ashley Lamm, Marion Byram Scholarship; Anna Welch, Dr. and Mrs. Ozro Hill Scholarship; Jenna Diehl, Hubert Kepner Memorial Scholarship Fund
Auburn High School: Latoya Gathers, Krug-Phillips Memorial Scholarship, Lyle Reedy Memorial Scholarship
Belvidere High School: Susan Fish, Freeport Memorial Alumni Nursing
Dakota High School: Hannah Alber, Betty and Ray Stamm Scholarship Healthcare Employees, Dr. and Mrs. Ozro Hill Scholarship; Kaylee Bocker, Harold D. Walkup Scholarship; Kyle Bordner, Ada Mook Memorial; Elizabeth Davis, Leonard C. Ferguson Memorial Scholarship; Kassandra Heitkam, Buss Agriculture Extracurricular Scholarship, James L Frisbie Memorial Scholarship; Emily M. Swift, James L Frisbie Memorial Scholarship, Wesley I. Robinson, D.V.M. Memorial Scholarship; Richie Thompson, Eduard Buss Humanities/Social Science Scholarship, James L Frisbie Memorial Scholarship
DeKalb High School: Erica Klein, American Business Women's Association
Durand High School: Alena Asche, Hobart Agriculture (Out-of-District) Scholarship; Cody Richardson, Buss Agriculture Extracurricular Scholarship, Hobart Agriculture (Out-of-District) Scholarship
Eastland High School: Anastasia Matias, Irvin and Dorothy Seuring Memorial Scholarship; Benjamin Woessner, Chris and JR Kuberski Scholarship; Delana Erbsen, Harold D. Walkup Scholarship; Madie Gallentine, Eduard Buss Humanities/Social Science Scholarship; Tyler Metz, Forreston State Bank Scholarship, Mr. and Mrs. James Palmer Automotive Technology Scholarship; Stephen Reifsteck, Ken and Marien Stein Scholarship; Maddie Gallantine, Steven Moll Memorial Scholarship; Jett Iske, Steven Moll Memorial Scholarship; Meredith Janssen, Steven Moll Memorial Scholarship; Rebecca Kempel, Steven Moll Memorial Scholarship; Ira Markley,
Steven Moll Memorial Scholarship; Andrew McKenna, Gene Haas Foundation Scholarship; Stephen Reifstock, Steven Moll Memorial Scholarship; Danielle Rush, Steven Moll Memorial Scholarship; Ardijan Seferi, Steven Moll Memorial Scholarship; Calista Smith, Steven Moll Memorial Scholarship; Theodore Woessner, Steven Moll Memorial Scholarship
El-Ann International School: Abdulsalam Nwandu, Ennenga/Holm Memorial Scholarship, Louis Fauser/Bankers Mutual Life Scholarship, Raymond A. Klee Trustmark Scholarship
Foreign/Institute Dela Gombe: Rodrique Efalema, Louis Fauser/Bankers Mutual Life Scholarship
Foreman High School: Randell Bursey, Eduard Buss Business & Technology Scholarship
Forreston High School: Dalton Becker, Dr. & Mrs. Spencer K. Phillips Scholarship, Irvin and Dorothy Seuring Memorial Scholarship; Matthew Beltran, CollegeNow (HCC Foundation); Julianna Beltran, H.G. Kable Memorial Scholarship; Bailey Brooks, Dorothy Yates Nursing Scholarship; Paige Chamberlin, James Schneiderman Memorial Scholarship; Kolten Dorty, Mary Gregory Warthen Scholarship; Heidi Duitsman, Virginia Ames Cosmetology Scholarship; Megan Hagemann, Compeer Financial Agriculture Scholarship; Kayla Janssen, H.G. Kable Memorial Scholarship; Kaylee Kloster, Davis/Balluff Scholarship; Antonio Romero, Irvin and Dorothy Seuring Memorial Scholarship; Kolton Rudy, James Schneiderman Memorial Scholarship; Tannis Schultz, Irvin and Dorothy Seuring Memorial Scholarship; Aaron Wubbena, Eduard Buss Business and Technology Scholarship
Freeport Alternative High School: Amber Bailey-Smith, H.G. Kable Memorial Scholarship
Freeport High School: Zoie Bardell, Emmert and Florence Klaas Nursing Scholarship; Hannah Boldt, H.G. Kable Memorial Scholarship; Josie Bunker, Ronald & Betty Norman Memorial; Angelina Busker, Harold Lee Offenheiser Ecology-Biology Scholarship; Na'viea Cain, Ennenga/Holm Memorial Scholarship, Anonymous Scholarship; Rozlyn Crawford, Irvin and Dorothy Seuring Memorial Scholarship; Major Dedmond, Eduard Buss Business & Technology Scholarship; Anthony Dedmond, Marion Byram Scholarship, Anonymous Scholarship; Tyler Deemer, Harold D. Walkup Scholarship; Holly Dewall, Eduard Buss Business & Technology Scholarship; Dominique Downing, Joseph S. and Bettye J. Mihina Nursing Scholarship; Alexa Eisenhower, Eduard Buss Humanities/Social Science Scholarship; Heather Ellis, Ray and Jeanie Searby Scholarship; Dayne Elzen, Rawson Engineering Scholarship; Alyssa I. Glover, Anonymous Scholarship; Korrie Harnish, Eduard Buss Natural Science & Health Scholarship, Robert & Lois Harlan Scholarship; Sydney Hayunga, Eunice O'Malia Memorial Scholarship; Teksha Herron, Anonymous Scholarship; Ethan Hill, Fehr Graham Scholarship; Desiree Jackson, Marion Byram Scholarship, Desiree Jackson; Anthony Johnson, Wid Hance Automotive Scholarship; Kristin Lei, Dorothy Yates Nursing Scholarship, Freeport Memorial Nursing Alumni; Dustin Mosley, Harlan and Jean Koberstein Scholarship; Teirra Robinson, Marion Byram Scholarship, Anonymous Scholarship ; Jarett Spangler, Eduard Buss Business and Technology Scholarship, Richard Ames Memorial Scholarship; Katherine Stevens, Eduard Buss Humanities/Social Science Scholarship, Michelle E. Berberet Memorial Scholarship; Samuel Stoehr, Harold D. Walkup Scholarship; Jessica Vasquez, J. Rosemary Shockey Memorial Scholarship Fund; Jasmine Veasley, Betty and Ray Stamm Scholarship Healthcare Employees; LaSherrie Walker, Marion Byram Scholarship; Robert Walker, Jr., Mr. and Mrs. Robert P. Wurtzel Memorial Scholarship, Anonymous Scholarship; Elizabeth Woitynek, Leonard C. Ferguson Memorial Scholarship; Joseph Zulke, James A. Davis Memorial Scholarship
Galena High School: Robert Johnson, Eduard Buss Business & Technology Scholarship
Home schooled: Ben Heise, Gene Haas Foundation; Megan Joiner, Illinois Community College System Foundation Health Trust Scholarship, Freeport Memorial Alumni Nursing; Emma Kraemer, Dr. and Mrs. Ozro Hill Scholarship, William A. Trunck Memorial Nursing Scholarship
Lena-Winslow High School: Alec Bennett, James A. Davis Memorial Scholarship; Gabrielle C. Brinkmeier, Harold D. Walkup Scholarship; Gabrielle Brinkmeier, Harold D. Walkup Scholarship; Gabrielle Brinkmeier, Harold D. Walkup Scholarship; Rebecca Edler, Charlotte A. Zartman Scholarship, Duke and Bev Herrling Scholarship; Grace Fox, CollegeNow (HCC Foundation); Krista Keene, Dr. and Mrs. Ozro Hill Scholarship; Megan Packard, Betty and Ray Stamm Scholarship; Felix Pontnack, Goodwill Industries Scholarship; Isabel Schoaf, Eduard Buss Business & Technology Scholarship, Philip Gordon Memorial Scholarship; Madilyn Schultz, Chris and JR Kuberski Scholarship; Stephanie Zimmerman, Betty and Ray Stamm Scholarship, Leonard C. Ferguson Memorial Scholarship
Milledgeville High School: Cody VanDyke, Craig A. Wilson Agriculture Scholarship, Hobart Agriculture (Out-of-District) Scholarship
Monroe, WI. High School: Jessica Klarer, Eduard Buss Natural Science & Health Scholarship, Women's Education Fund Scholarship, Freeport Memorial Nursing Alumni; Macayla Quinn, Eduard Buss Natural Science & Health Scholarship
Olives Green World Schools, Lagos: Peace Uzoigwe, Harry A. Warthen Scholarship
Orangeville High School: Mathew Barr, Hubert Kepner Memorial Scholarship Fund; Raegan Bass, Margaret and Clarence Mitchell Scholarship; Christine Ceroni, Leonard C. Ferguson Memorial Scholarship, Todd Engelkens Memorial Scholarship; Madison Cahoon, Dr. and Mrs. Ozro Hill Scholarship; Megan Davis, Cristina Lambert/Wagner House Alumni Scholarship, Philip Gordon Memorial Scholarship; Hanna Diffenderfer, Ellen Stadermann Community Service Scholarship; Grace Edler, Della Mae Coppernoll; Alyssa Ostendorf, Dr. and Mrs. Ozro Hill Scholarship
Pearl City: Amanda Baldauf, Dr. & Mrs. Spencer K. Phillips Scholarship; Korissa Blasing, Leonard C. & Mildred F. Ferguson Foundation Nursing Scholarship, Women's Education Fund Scholarship; Tyra Clark, Eduard Buss Natural Science & Health Scholarship; Mackenzie Endress, Betty and Roger Dornink Memorial Scholarship; Zander Endress, Charles Endress Memorial Scholarship; Lydia Lott, Eduard Buss Humanities/Social Science Scholarship, Stateline Area Crime Stoppers; Sydney Monks, Fredrick and Alice Kirkman Memorial Scholarship; Alayna Palmer, H.G.Kable Memorial Scholarship; Madyson Stephan, CollegeNow (HCC Foundation)
Pecatonica High School: Travis Jacobs, Hobart Agriculture (Out-of-District) Scholarship
Polo High School: Olivia Hopkins, Dr. Neal and Flo Chapin Nursing Scholarship; Baylee Wiemken, Gene Haas Foundation Scholarship
River Ridge High School: Dylan Landwer, Harold Lee Offenheiser Ecology-Biology Scholarship; Dalton Wachter, Harold Lee Offenheiser Ecology-Biology Scholarship, Highland Chapter #108 of Pheasants Forever Scholarship, Whitetails Unlimited Scholarship
Rock Falls High School: Nicole Stepp, Lyle Reedy Memorial Scholarship
Scales Mound High School: McKenna Peart, Eduard Buss Business & Technology Scholarship, R.C. Miller Agriculture Scholarship
Stillman Valley High School: Matthew Hickey, Hobart Agriculture (Out-of-District) Scholarship; Sophia Lichty, Buss Agriculture Extracurricular Scholarship, Del Scheider Agriculture Scholarship; Elizabeth Oltmanns, H.G. Kable Memorial Scholarship; Kayla White, Hobart Agriculture (Out-of-District) Scholarship
Stockton High School: Tyler Bartch, Leonard C. Ferguson Memorial Scholarship, R.C. Miller Agriculture Scholarship, Haley Brudi, Ken and Marien Stein Scholarship, Becky Werner Memorial; Jamie Eden, Becky Werner MemorialNicholas Ege, Marjorie Kleckner Roberts Memorial Scholarship; Jennifer Hatfield, Cristina Lambert/Wagner House Alumni Scholarship, Raymond A. Klee Trustmark Scholarship; Rebecca Jacobs, Buss Natural Science Scholarship; Allison Kehl, Harlan and Jean Koberstein Scholarship, Leonard C. Ferguson Memorial Scholarship; Winston McPeek, Eduard Buss Business & Technology Scholarship; Zachary Newman, J. Rosemary Shockey Memorial Scholarship Fund; Cody Schultz, James A. Davis Memorial Scholarship; Rawley Schulz, H.G. Kable Memorial Scholarship; Hannah Smith, Dick and Irma Dittmar-Ames Memorial Scholarship, Leonard C. Ferguson Memorial Scholarship; Abigail Weber, Della Mae Coppernoll; Abigail Weber, Della Mae Coppernoll; Brendan Westphal, Gene Haas Foundation Scholarship
Warren High School: Autumn Flynn, Betty and Ray Stamm Scholarship; Dylan Hallerman, Wid Hance Automotive Scholarship; Jennifer Miller, H.G.Kable Memorial Scholarship; Kimberlyn Raab, Eduard Buss Humanities/Social Science Scholarship
West Carroll High School: Hannah Kay Johnson, Steve Mihina Mathematics-Science Scholarship; Shane Houzenya, Buss Agriculture Extracurricular Scholarship. Craig A. Wilson Agriculture Scholarship
Winnebago High School: Maddison Ruud, Hobart Agriculture (Out-of-District) Scholarship