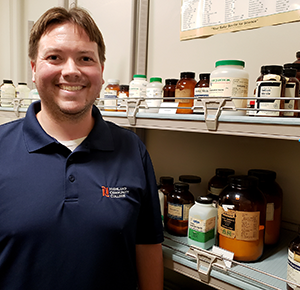 Dr. Brendan Dutmer, Associate Dean, Natural Science and Mathematics, and chemistry instructor, will present a paper recently published in Dalton Transactions at the International Union of Pure and Applied Chemistry (IUPAC) conference on July 8 and 9 in Paris.
"This feels amazing," Dutmer said. "To be able to present this paper in Paris, on the international stage in the presence of multiple Nobel Prize winners is special. This is the 100th anniversary of IUPAC and the conference is expected to be IUPAC's largest. This is special for Highland, and for NIU as it helps train local students to their fullest potential and hopefully acts as a recruitment tool for new students."
The paper was published in May, written by Dutmer, Staci E. Hammer, Jenna M. Lafferty, Keaton R. Lawson, and James R. Gustafson from Highland Community College and Austin L. Gille and Dr. Thomas M. Gilbert from Northern Illinois University (NIU).
The collaborative effort between Highland and NIU was three years in the making. The paper describes a study of organic chemistry reactions involving chemical bonding between boron and nitrogen. Similar reactions involving bonded carbons are already well described. Dutmer said the paper builds on reactions found in the coursework of undergraduate organic chemistry classes.
"This is the first paper published through Highland that began as an honors project," Dr. Dutmer said. "We worked directly with NIU to model the materials. It is great for the students to be able to do undergraduate research early in their academic track. It sets them up for scholarships, research opportunities, and increases their chances to get into graduate schools, medical schools or other professional schools."
Dutmer added this is a win-win for both the students involved and for Highland as it demonstrates a willingness to work outside of the school, to stay current and be involved in the research process.