The 2016-2017 Highland Community College Leadership Institute's graduates were honored during a recent recognition dinner and ceremony held on the HCC campus.
The Leadership Institute is a nine-month development program provided by Highland Community College, which provides opportunities to all segments of the community to learn more about leadership.
Members of the class were individually recognized for their year's work during a program, which featured speeches from Leadership Institute graduates Billy Shroyer, Jr. and Alan Wenzel, who was honored after retiring with 25 years of service. Remarks were made by Highland President Tim Hood and Dean of Humanities, Social Sciences, and Fine Arts Jim Phillips, who has served as co-director in recent years.
"Twenty-five years goes by quickly. We started with a vision to develop a community development program. It's a quality leadership program, and we have had good community partners to help make it a success. I'll miss it. It grows on you, and I always looked forward to meeting the new energetic people each year. It's bittersweet. I'm ready to do other things, but this has been such a big part of my professional life," Wenzel said.
Founded in 1991 to recruit, develop, and strengthen leadership in the community, the Leadership Institute provides participants each year with an opportunity to learn more about the history of Stephenson County and its communities; to examine and discuss important area issues, and to strengthen individual leadership skills. Since its inception, the Leadership Institute has helped over 500 citizens become more influential in changing and improving lives throughout northwest Illinois.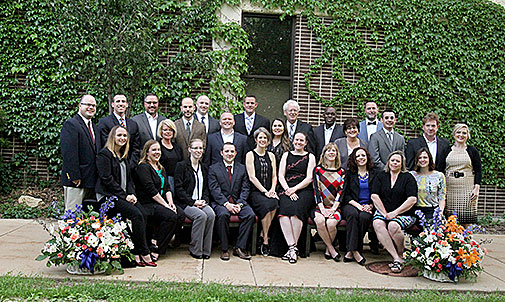 The following is a list of 2016-2017 graduates and their sponsors:
Eric Borneman – Stephenson County State's Attorney's Office
Timothy Cook – Malcolm Eaton Enterprises
Eric Cummins – Union Savings Bank
Andrea Gallagher – Monroe Clinic
Jennifer Grobe – Highland Community College
Jason Kempel – Community Bank
Laura Keyes – Freeport Public Library
Debra Koch – University of Illinois Extension
Travis Lutz – Stephenson County Public Defender's Office
Kathryn Martinez – FHN
Duane Meighan – Freeport School District
Tonya Meyer – FHN Foundation
Alexander Mills – City of Freeport
Matt Moyer – Citizens State Bank
Amanda Pierce – Forreston State Bank
Danielle Rogers – Freeport Downtown Development Foundation
Leslie Schmidt – Monroe Clinic
Chris Schneiderman – State Bank – Freeport
Andrea Schultz Winter – Winter Design
Christopher Shenberger – Freeport Police Department
Billy Schroyer, Jr. – Security First Title Company
Sheri Wescott – Monroe Clinic
Amy White – US Bank
Kimberly Wolter – Furst-McNess Company
Application forms for the 2017-2018 Leadership Institute are being accepted through July 1, and can be obtained here or by writing Jim Phillips, director of the Leadership Institute, Highland Community College, 2998 W. Pearl City Road, Freeport, IL 61032. For more information call 815.599.3469 or e-mailjim.phillips@highland.edu.
_________________________
OFFICE OF COMMUNITY RELATIONS 
2998 W. Pearl City Road
Freeport, IL 61032-9341
815-235-6121
Fax 815-235-6130