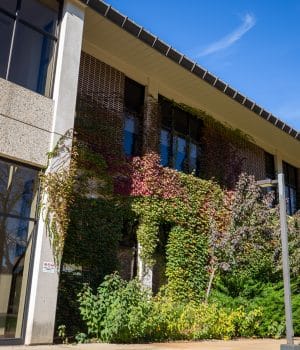 Students will have new options among the 70-plus programs offered at Highland Community College this year.
Whether students follow a transfer pathway or prepare for a trade to get them directly into the workforce, they will find possibilities with certificates, degrees, and emphasis areas. Programs coming this year include a Cannabis Studies certificate, Marketing and Small Business Management/Entrepreneurship certificates, associate's degrees, and emphasis areas to major in Mathematics Education or Science Education.
The certificate program in Cannabis Studies precedes a more comprehensive enhancement of the academic lineup offered by the Agriculture Department at Highland. Faculty believe this timely addition will help meet the demand for skilled labor in the burgeoning legal cannabis industry.
"With the relatively recent legalization of hemp production and use in the United States and the state-level legalization of marijuana production and use in Illinois, the cannabis plant has certainly become a study of interest to many people," said Agriculture Instructor Monica Pierce. "By offering a certificate program in Cannabis Studies, we hope to bridge educational gaps that exist. Students enrolled in the program will get experience growing cannabis in a greenhouse setting while also learning about legal policies, cannabis processing, and career opportunities."
New programs from the Business department are similarly structured for recent high school graduates or those with some work experience to get an edge in a variety of jobs. The certificates and associate of applied science degree programs are designed as standalone options for students who do not intend to transfer, as an alternative to the department's existing four-year pathways.
"The marketing certificate and degree will be valuable for those looking to work in marketing-specific positions, but also for those with a marketing overlap. No matter the field, understanding and applying marketing principles are essential," said Business instructor Evan Talbert. "Whether you are wanting to start a new business or thrive in an existing one, the entrepreneurship/small business management certificate and degree will focus on legal requirements, personnel management and leadership, cost controls, and other integral concepts for the small business owner."
For students seeking to transfer for a four-year teaching degree or master's, the Division of Natural Science and Mathematics is premiering new majors to meet a need for educators.
"There are national and regional teacher shortages in high schools and middle schools, particularly in math and science areas," said Dean of Natural Science and Mathematics Brendan Dutmer, Ph.D. "Our new programs in Mathematics Education and Science Education are structured to guide students toward completing a degree that qualifies them for these specialized fields. In science, teachers typically tend to pursue an area of specialization — for example, Biology Education, Chemistry Education, Earth Science Education, or Physics Education."
On top of certificates, degrees, and emphasis areas, Highland has unveiled a new option for more flexibility in earning general education requirements. Students can choose to take all gen eds fully online as a complete transferable package toward four-year colleges and universities.
"Today's graduates need interdisciplinary skills to thrive in an increasingly nuanced job market, which means Highland must continually evaluate how to meet the needs of learners," said HCC Vice President of Academic Services Sam Agdasi. "We strive to provide the best educational opportunities for students, and offering these new programs is in alignment with that goal."
Registration is open, with summer classes starting June 12 and the fall semester coming up on Aug. 21. Contact Advising to register at 815-599-3573.