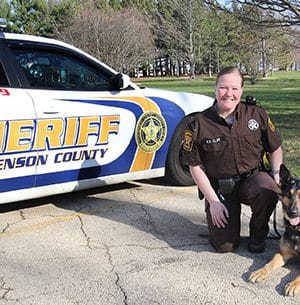 Since she was a young girl, Rachel Clay of Dakota wanted to become a first responder. Realizing the medical field was not her forte, she looked into the study of Criminal Justice while a student at Highland Community College.  
A fall 2016 graduate of Highland, she furthered her studies at the University of Wisconsin-Platteville, where she graduated with a Bachelor's degree in Criminal Justice. She credits her education at Highland Community College with helping her take the path to becoming a law enforcement officer, ultimately becoming a K-9 officer as a deputy with the Stephenson County Sheriff's Department.
"My instructor, Jennifer Roser, helped keep my fires burning for my career path when I studied at Highland," Clay said. "She encouraged me to get out there, to volunteer, to look at what I wanted to do. I found it by becoming a Freeport Police Department Auxiliary Officer, which gave me the first-hand experience to see what a police officer goes through daily while on the job. It became real-world training and valuable experience to interact with the community."
Clay joined the Stephenson County Sheriff's Department in 2018. Her first job was at the jail, then meeting the requirements of becoming a deputy officer on patrol. Since then, she said she loves being part of a job she yearned for, in a county she grew up in, and being able to help people.
Clay has the distinction of becoming the first female K-9 patrol officer for the sheriff's department. She and her K-9 partner, Ralf, recently completed a six-week training course in Michigan. She is now a certified sheriff deputy working on the K-9 unit. She is one of two officers working in Stephenson County on the K-9 unit.
"I love dogs," she said. "Being able to work with the K-9 unit is another step in my evolving career. Attending Highland lit a small candle for me, and now I keep that fire burning. I love what I do. It is about service, and helping others."
Clay said when it comes to being a K-9 handler, it comes down to trust between dog and officer. She said she is happy to have learned the skill set to add an extra layer to her first responder career choice.
"I graduated with another skill to be part of law enforcement," Clay said. "Working a dog gets my brain going. A K-9 is like working with a person. Ralf is like a tracking machine, and essentially a work of art. Ralf and I blend well."
Stephenson County Sheriff David Snyders said he is pleased to have Clay be part of a team of two K-9 officers in Stephenson County. Both K-9 officer canines were bought through community donations. The K-9 officer dogs are used for narcotics detection and helping with arrests. He also said he is proud to have the first female K-9 officer in the department.
"Deputy Clay likes dogs, and I am pleased she accepted the job," Snyders said. "She and Ralf hit it off, and her further training is such an asset to the department. K-9 units are valuable tools for law enforcement. Our K-9 units have assisted the City of Freeport and the Illinois State Police."
Clay said she and Ralf are together 24/7, a team that lives and works together.
"Ralf is my partner," she said. "I like having a partner, mine just happens to be a dog, and I couldn't be happier how things have worked out for me this far in my career."
For more on the Criminal Justice Program at Highland Community College, visit highland.edu. To start your career in Criminal Justice, visit highland.edu/criminaljustice.
Caption:
Stephenson County Sheriff Deputy Rachel Clay kneels next to K-9 Officer Ralf on Thursday, April 21, 2022, at Highland Community College in Freeport. Clay is the first female K-9 officer for the Stephenson County Sheriff's Department. [PHOTO PROVIDED BY HIGHLAND COMMUNITY COLLEGE]