At an organizational meeting of the Highland Community College Board of Trustees, held on Monday, April 29, two recently-elected board members were sworn in and seated, and the outgoing trustee and student trustee were recognized.
Shawn Boldt and Jim Endress were sworn in by Terri Grimes, board secretary. Recognized were outgoing student trustee Erin Schrader and board member Diane Gallagher. Endress was elected board chair and Blake Musser was elected vice chair. Other members of the board are David Shockey, Douglas Block, Dr. Steve Jennings, and Pennie Groezinger. Terri Grimes was elected board secretary.
Gallagher, of East Dubuque, began her term on the board in 2001. During her tenure on the board, Gallagher served as the board's Audit & Finance Committee Co-Chair; served as a representative to the Illinois Community College Trustees Association (ICCTA), where she was a member of the Women in Leadership committee; served as the ICCTA Northwest Region Chair; and was recognized with numerous awards, most notably ICCTA's Ray Hartstein Trustee Achievement Award in 2016. She also served on various committees for the Association of Community College Trustees (ACCT) and received ACCT's M. Dale Ensign Trustee Leadership award in October 2016.
Erin Schrader served as the student trustee for the 2018-2019 term. She will graduate, Magna Cum Laude, from Highland Community College on May 18. Schrader has served as a member of Student Senate; been on the Dean's list; been active in music and theatre; and most recently received Highland's Citizenship award.
For more information visit highland.edu.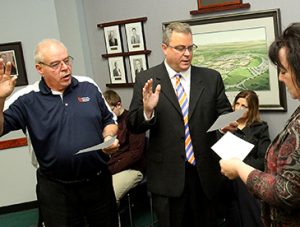 Terri Grimes, right, swears in Jim Endress, left, and Shawn Boldt to the Highland Board of Trustees.
Douglas Block, left, gives Erin Schrader a gift of appreciation for her year of Student Trustee service on the Highland Board of Trustees.