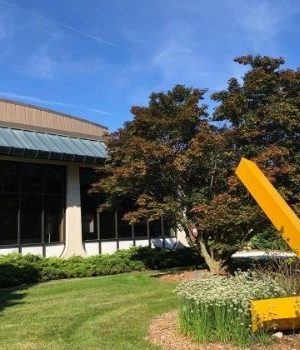 Highland Community College Theatre Arts program presents "The War of the Worlds: The 1938 Radio Script" with live, in-person performances at 7:30 p.m. Thursday, Oct. 7, Friday, Oct. 8. and Saturday, Oct. 9 in the Ferguson Fine Arts Center, 2998 W. Pearl City, Rd., Freeport, Ill.
Broadcast from New York's Mercury Theatre in 1938, the infamous radio play, based on the novel by H. G. Wells, had many terrified listeners convinced of an actual alien invasion of earth was taking place. Adapted by Howard E. Koch, co-writer of the movie "Casablanca," and directed and narrated by Orson Welles, the original script details the frightening tale of an extraterrestrial. Many terrified listeners were convinced an actual alien invasion of earth was taking place.
"The novel, 'War of the Worlds,' by H.G. Wells has inspired radio broadcasts, movies, and a television series," said Laura Early, director and Theatre Arts instructor at Highland. "The 1938 radio broadcast by Howard Koch remains thrilling. We are producing a live in-person theatre production of the radio play. We invite audience members in the theatre to use their imagination and go with us on that journey of an alien invasion."
Call 815-599-3718 or visit the Box Office web page at highland.edu/boxoffice to place a ticket order. Phone and online tickets sales will end at 5 p.m. on Friday, October 2. In-person tickets sales are open 1 – 5 p.m. Monday through Friday at the Box Office, located in Ferguson Fine Center (Building F). The box office will not be open for ticket sales on the evening of performances.
Highland Community College follows safety recommendations set forth by the Illinois Department of Public Health, the CDC, state and federal guidelines. During all performances, masks and social distancing is practiced.