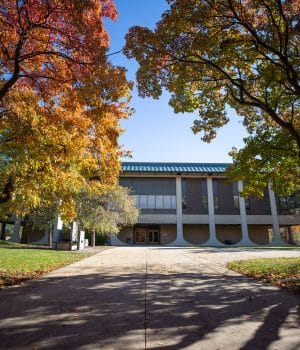 The community and friends of Highland Community College are invited to join the 2023 graduates and their families in celebrating our 60th annual Commencement Ceremony at 10 a.m. on Saturday, May 20, at Highland Community College, 2998 W. Pearl City Rd., Freeport, Ill.
The ceremony is outdoors on the Highland campus. Commencement will take place in the courtyard between the Marvin-Burt Liberal Arts Center and Natural Science Center. Guest parking is located in lot D on the south side of campus outside Building N, which contains the Natural Science Center and the Ray and Betty Stamm Health Science Nursing Wing.
The commencement keynote is 1992 Highland graduate B'Ann Dittmar, Assistant Department Chair for the Business Department at Clarke University in Dubuque, Iowa.
Brooke Allison Parkinson, who will graduate Magna Cum Laude with the Class of 2023, will have the honor of giving this year's student speech at Commencement.
The College is expecting a large number of participating graduates, so guests are encouraged to arrive on time for the best seating availability.
In case of inclement weather, the ceremony will be held in the Larry F. Kahl Gymnasium located in the YMCA/Sports Center on Highland's campus. Due to a large number of graduates, tickets will be required to attend the ceremony if held in the YMCA/Sports Center. Each graduate will be given six tickets.
Adult Education will hold the GED© Graduation Ceremony at 6 p.m. Wednesday, May 17 in the Student/Conference Center in Room H-201. The public is invited to attend.