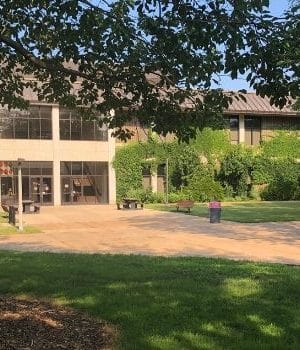 FREEPORT — Highland Community College, home of the Cougars, welcomed a dramatic double-digit percentage increase in students attending classes this fall, with holistic growth across populations.
Highland Community College's new and continuing student body of 1,369 is 15.6% larger than it was last year. Cougars are enrolled in 12,417 credit hours, also a significant increase of 9.4% over 2022. These totals reflect the institution's official 10-day count report figures, captured as of early September.
"With close to 200 more students enrolled in a thousand-plus additional credit hours over last fall, HCC's campus has been abuzz with life," said President Chris Kuberski. "It is truly thrilling to see our Cougars participating at unprecedented levels in student activities, and our classrooms full of engaged learners."
The majority of this fall's enrollment growth is among female and part-time students. However, more Cougars across a variety of backgrounds and pathways chose to start or continue at Highland this fall, with increases in all age groups. Sixty-one percent of Cougars are first in their families to attend college.
Student increases were also consistent across white, black and all additional race/ethnicity categories. Beyond serving as an open-door institution to the largely rural communities spread across a 1,640-square-mile swath of northwest Illinois, HCC is home to international students from 13 countries.
Enrollment growth of 1,070 credit hours in new and high-demand programs reflects the interests of HCC's traditional and nontraditional Cougars alike — including nearly 400 high school students earning dual credit, participating in College Now programs or otherwise pursuing courses at the college level.
The most drastic shift in enrollment was a triple-digit leap of 115% in Early Childhood Education, followed by a 50% jump in Business courses. Additional academic areas seeing roughly 20-30% credit-hour increases include Criminal Justice, Economics, Humanities, Sociology and Physical Education.
Highland kicked off this academic year with a handful of new programs — a Cannabis Studies certificate in Agriculture, Marketing and Small Business Management/Entrepreneurship certificates and associate's degrees in Business, and emphasis areas toward Mathematics Education or Science Education degrees. For more information on Highland's new programs, visit highland.edu/academics. Spring enrollment opens on Oct. 23. Students can schedule an appointment with HCC advising by calling 815-599-3573.