On Saturday, March 11, 2017, Highland Community College honored and celebrated 20 years of the High School Servant-Leadership program with a special training and event. Over 200 current and former Servant-Leadership participants, mentors, and special guests were in attendance to help recognize the success and growth of the program.
What began as a dream and vision of the late President of Highland, Dr. Ruth Mercedes Smith has truly become a "Highland Distinctive" program in the region.  Training generations of young people on Servant-Leadership philosophy, personal, team, and community development has helped to strengthen our community of future leaders. 
The program has generated over one million hours of community service to people in need and organizations within our communities.  Monthly training sessions at Highland continue to provide students an opportunity to become aware of and strengthen their leadership skills and abilities.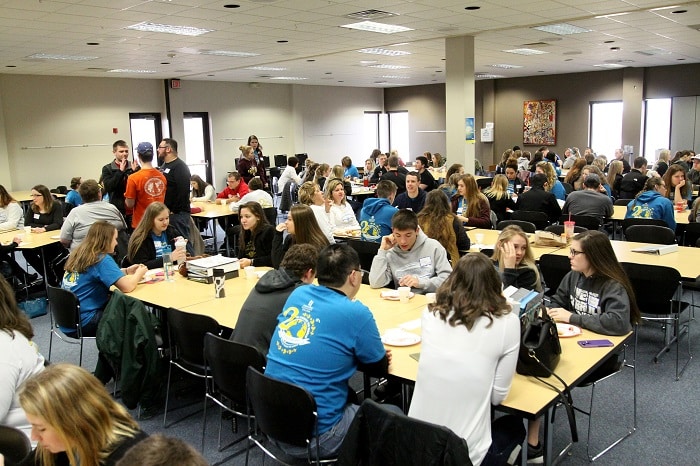 The day opened with a breakfast followed by a two-hour training session. Afterward, guests gathered for a luncheon followed by Keynote Speaker, Tammy Abell, leading an interactive session for all current and former Servant-Leadership participants. Kim Pool, Director of HCC's High School Servant-Leadership Program, explained, "Tammy has been the program's keynote, motivational, inspirational, and educational trainer for over 18 years."  She added, "Tammy has gifted Highland with her Servant Heart over the years, and the motto of HCC's program 'to change the world, we must touch the world' was first birthed out of a training she facilitated. It also captures her heart of service as a trainer and a longtime friend of Highland."
Illinois State Representative Brian Stewart presented HCC with a certificate of recognition from the Illinois House of Representatives in honor of the program's 20th anniversary.
Freeport Mayor Jim Gitz read a proclamation from the City of Freeport recognizing the program for its "continuing work in developing leadership skills in area students and preparing them for leadership involvement that adds to the fabric of our entire community."
Larry Spears, Servant-Leadership Scholar at Gonzaga University and President of the Spears Center in Indianapolis, stated, "Over the past twenty years, HCC's Servant-Leadership program has been a shining example of a servant-led program that unites those who are committed to both education and community.  While the Servant-Leadership program has grown through the work of so many people, I would like to offer my special appreciation for Kim Pool — someone who truly 'dwells in possibilities' — and one of the most gracious servant-leaders that I have ever met."
The legacy and impact of Highland's High School Servant-Leadership program are echoed by participants. Abbey Grisham, a Graduate Research Assistant at the University of Wisconsin-Madison and 2011-2012 Servant-Leadership Eastland Chapter Member, explained "Servant-Leadership helped me stand out when I graduated high school. I would never have thought when I graduated high school that I would be working on my master's degree. I couldn't be where I am today without all of the scholarships and people who helped me along the way, which included the community service I did through Highland Servant-Leadership. That helped me get to know the people in my community."
"Servant Leadership continues to be a fond memory for me during my high school years. This program not only allowed me to develop friendships with other classmates that I may not have been able to interact with otherwise, it also challenged me not to just become a complacent student. Instead, servant leaders were encouraged to see the influence they could have on their classmates and their futures through service to others. Now, as an adult, with a family and a business of my own, these principles still inspire me," added Amanda (Hoffman) Stichter, a 2006-2007 Servant Leadership Freeport Chapter member.
"I credit Highland Servant Leadership for helping me discover my passion for serving the community. I feel strongly that you should want to make a difference in whatever you do, and that lesson was honed while a member of the HCC Servant Leadership Program," added  Skylar Kempel, MS, ATC, LAT, Police Officer-Garland, Texas, and 2006-2007 Servant Leadership Lena-Winslow Chapter member.
For more information about HCC's High School Servant-Leadership program, contact Kim Pool at kim.pool@highland.eduor 815.599.3574.
_________________________
OFFICE OF COMMUNITY RELATIONS 
2998 W. Pearl City Road
Freeport, IL 61032-9341
815-235-6121
Fax 815-235-6130