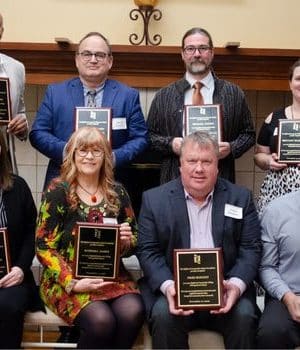 FREEPORT — On November 17, the Highland Community College Foundation recognized eight Distinguished Alumni at the Freeport Club in Freeport.
This is the 26th year the Foundation has recognized individuals who made their start at Highland Community College, have shown community leadership and believe in the mission of higher education. To date, Highland has named more than 160 individuals as Distinguished Alumni.
"These eight Distinguished Alumni have accomplished so much in their personal and professional lives," said Dan Dick, Executive Director of the Highland Foundation. "Their academic and career success began while at Highland Community College, and it is inspiring to see the legacies they've established in both local communities in northwest Illinois and around the country. Each person has made an impact on the lives of others in immeasurable ways. We heard how Highland helped make that possible."
Dick adds, "This year marks the 60th anniversary of Highland Community College. We are proud to have the oldest two-year college foundation in the state of Illinois and one of the first in the nation. The legacy of the visionary leaders of Highland is strong and has provided an opportunity for thousands over our history."
The following were recognized as Distinguished Alumni:
Dave Bergemann (Lena)
Nominated by Jim Hastings
Dr. Bergemann began his journey as a pre-veterinary student in Highland's class of 1979, going on to graduate from the University of Illinois College of Veterinary Medicine. He returned to northwest Illinois first as an associate at Freeport Animal Hospital and then at Lena Veterinary Clinic. His work ethic, client relationships and managerial skills led Dr. Jim Hastings to invite him to become a partner in the Lena clinic. While expanding a thriving veterinary practice, Dr. Bergemann raised four children with his wife June and became involved in the community — especially through the Le-Win Jaycees and as founder and operator of the Lena Haunted Barn for 20 years.
Brittany Blomberg (Davis)
Nominated by Juliet Moderow and Karla Giuffre
Brittany was a student worker in Highland's biology department and a member of Phi Theta Kappa, graduating summa cum laude in 2010 before going on to Des Moines University College of Osteopathic Medicine and a residency in Rural Family Medicine at Monroe Clinic. She is currently a family medicine physician at Beloit Health System. Brittany and her family started the Betty Shaffer Foundation, which has offered scholarships to nursing and education students at Highland, and Brittany has participated as a guest speaker for the Highland Women in Science club. She and her husband Mark are parents of two children.
Fred Bonnet (Dubuque, Iowa)
Nominated by Joel Holland
Fred graduated from Highland in 1992 before going on to Loras College for a bachelor's degree in economics, all while working full-time at Eagle Ridge Resort. He's been the owner of Galena's Fried Green Tomatoes restaurant for over 25 years and also manages commercial property in Dubuque. His deep commitment to the community includes hosting an annual golf outing fundraiser, organizing Galena community events, and serving as a member of the Hope Foundation Board, the Galena Downtown Business Association, and the Galena Rotary. Fred has given numerous high school and college students their first experiences in the hospitality industry, and he has been a commencement speaker at Highland graduation.
D. Antonio "Dean" Cantu (Fort Smith, Ariz.)
Nominated by Ron Rasmussen
As a first-generation college student, Dean graduated from Highland in 1981 and went on to obtain bachelor's, master's and doctoral degrees before becoming the inaugural Dean of Health, Education, and Human Sciences at the University of Arkansas at Fort Smith. He has served on several boards, including the Illinois State Educator Preparation and Licensure Board and the Illinois Council for Social Studies. His curriculum writing credentials include The History Channel, the Wall Street Journal Classroom Edition and PBS Frontline. He is a recipient of the Mergan Award for Public Service and the Putnam Award for Excellence in Teaching. He and his wife Sandy raised three children, who all remain in Illinois.
Antwon Harris (Clarksville, Tenn.)
Nominated by Chris Kuberski
Antwon was a star basketball player and MVP for the Highland Cougars and then for Winthrop University Eagles where he obtained his bachelor of science degree. He has been a coach of the Highland Women's Basketball team and Longwood University's Women's Basketball team, and was inducted into the NJCAA Region IV Hall of Fame. He is the founder and CEO of the Antwon Harris Group, LLC, traveling internationally as a motivational speaker, executive coach, and educational consultant, helping organizations "reimagine the future of education through the lens of Emotional Intelligence." He is also the author of Life on the Court and The Power of Ah and the host of the "Life on the Court" podcast.
Barbara James (Austin, Texas)
Nominated by Ariane Jocknevich
Barbara's graduation from Highland in 1971 was just the first step in her path to a lengthy career helping students in difficult situations attain their educations. Following a bachelor's and master's degree, she became the lead admissions counselor for UW—Platteville before moving to Texas to work for the City of Austin, heading the city's "Women in Non-traditional Jobs" program. Later, as coordinator for homeless education in the Texas Education Agency, she was invited by the U.S. Department of Education to develop the first national training program for educating unhoused children. She has presented at 600-plus conferences, is active in numerous education councils and has received multiple state and national awards, including a U.S. Presidential Volunteer Recognition.
Connie Kraft (Lena)
Nominated by Brianna Kraft
Connie has used her education at Highland Community College and the HCC Jo Daviess County Leadership Forum to focus on northwest Illinois' nonprofit sector. An active member of the Lena Lions Club, she has received the Foundation Fellow and Melvin Jones awards and served as Club President and Fall Festival Chair. She has also been Board Chair of the Lena Community Center and Acting Board President of the Cornerstone Credit Union. In 2017, Connie became the United Way of Northwest Illinois Executive Director where she supported two new affinity groups. During the pandemic, she brought an additional $150,000 to the community and helped the chapter obtain a Healing Illinois grants.
Michael Maher (Macomb)
Nominated by Jim Phillips and Chris Kuberski
Michael's passion for teaching began at Highland, and after graduating in 1993, he went on to obtain bachelor's and master's degrees from Western Illinois University. He has taught sociology at Spoon River College for over 25 years, and believes "education is a vehicle to a better career and overall quality of life, but education means so much more … I want my students to be professionally successful, but more than that, I want my students to discover what they are passionate about, what they care about, and what matters to them." Michael has received the H. Truman Standard Award for Outstanding Teaching and Outstanding Faculty from the Illinois Community College Trustees Association. He has spoken at Highland commencement.
For more on the Highland Community College Foundation, visit highland.edu/foundation.