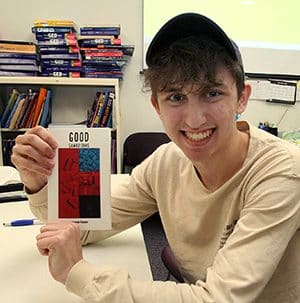 With a love for reading, and a fan of novelist Stephen King, Drew Rogers of Freeport used the writing skills he developed through his GED courses to pen a first novel entitled, "Good Samaritans."
Rogers began writing the novel a year ago. He came up with the synopsis for the book and began developing the story, rewriting, and editing until he was ready for publication.
"I love to read Stephen King books, and after reading so many, and his inspiration made me think I could do this, and I did," Rogers said.
Rogers said he loves to tell stories and is proud to have written the book. The book is about two boys named Freddie and Henry, who have it all and will stop at nothing to keep it. They get involved with the Italian Mafia and quickly learn it is better to be allies than to be enemies.
"Writing is about the use of the imagination," Rogers said. "I knew I always had a talent for writing, and now that I have this first book, I have many stories that I want to tell."
Currently enrolled in the GED courses at Highland, Rogers takes part in course work that has him sharing personal stories and artwork in a writing booklet. His instructor, Kim James, said it is exciting to have one of her students write a novel.
"Drew told me during one of the classes that he was writing a book," James said. "We encourage writing and I am proud of him. He is my first student to be a published author."
"Good Samaritans" was published on Aug. 28. The book is available online from Amazon and Barnes & Noble. Rogers' pen name is Leonardo Pizzolato.