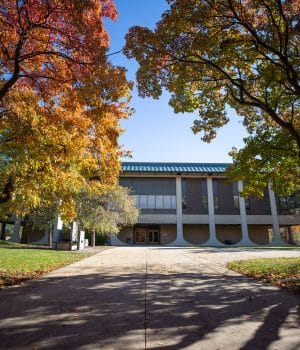 Highland Community College is spotlighting its Adult Education and literacy programs to provide economic opportunity across the institution's service region of Northwest Illinois.
National Adult Education and Literacy Week, running through Sept. 23, 2023, underscores the continued demand for programs serving adult students who need to improve basic reading, writing and math skills and obtain a State of Illinois High School Diploma. More than 36 million adults nationwide, including 1.2 million in Illinois, lack basic literacy skills that limit their ability to advance in education and at work.
"Every day at Highland students learn the skills they need to succeed," said Rachel Feldhaus, Director of HCC's Adult Education program. "When students earn their high school diploma or level up their English skills, it benefits their families and the whole community."
Highland is one of more than 72 adult education providers offering programs funded through the Illinois Community College Board (ICCB) that improve and expand the nation's available pipeline of workers. The college assists those who lack the educational requirements to achieve gainful employment in today's increasingly high-tech, global job market.
Students can now earn an Illinois High School Diploma through Highland's Adult Education courses, which opens the door to both higher wages and further educational opportunities.
Highland offers free Illinois High School Diploma and English as a Second Language classes to the community — including morning, afternoon, and evening classes in three locations. The college also provides free individual tutoring at a variety of locations and times.
Adult education provides a path from low-income jobs and limited opportunities to middle-class wages and increased family sustainability. Full-time workers with a high school diploma earn almost $10,000 more annually than those without a diploma.
"Adult Education programs are critically important to tens of thousands of adults each year, especially those learning the English language for the first time," said ICCB Executive Director Brian Durham. "We are seeing an exponential increase in enrollment in AE programs after the global pandemic as Illinois continues to accept immigrants from all over the world seeking asylum in welcoming states like ours."
Durham added: "With partnerships across nearly 10,000 unique employers across the state, Illinois Community Colleges are the engines that drive industry in their local communities and across the state. So many good-paying jobs require education beyond high school but don't necessarily require the time and cost of earning a four-year degree. Community Colleges meet the education needs of Illinoisans at every life stage."
To learn more about Adult Education and literacy programs, visit highland.edu or call 815-599-3460.