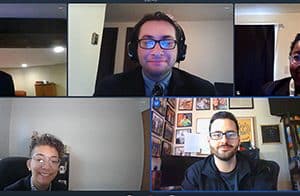 After a demanding week of virtual competition at the Phi Rho Pi National Tournament, the Highland Community College (HCC) Forensics team has plenty to celebrate.
Four students represented Highland on the national stage the week of April 5: Mike Sherman, Shirley Hounnou, Dezi Brooks, and Rhys Love. The team earned a bronze medal in the debate division of Team Sweepstakes, which is HCC's first-team recognition at the national level in more than 25 years. Mike Sherman successfully argued his case for a gold medal in International Public Debate (IPDA)—also the first national gold for Highland in decades. Additionally, Sherman earned a bronze in Impromptu Speaking.
"All four of these students and our assistant coach and alum, Kevyn Sutter, have represented Highland with grace and perseverance all season long, and I could not be prouder of their hard work and commitment despite the obstacles they have faced," said Harry Bodell, Speech Communication Instructor.

The team invested long hours adapting their performance style for the webcam. While students took extra strives to foster connections with teammates and virtual audiences, their diligence paid off. Bodell predicts the momentum of their national success will translate to an exciting 21-22 season.
"This fall will be an ideal time for students to get involved in Highland's speech team," said Bodell, who is looking forward to a return to live, in-person competition. "We even have scholarships available, including a full-tuition scholarship."
Bodell believes speech and debate are among the most valuable academic activities a student can pursue because it promotes critical and "on-your-feet" thinking. It also encourages students to embrace individuality, explore topics they care about, and develop lifelong friendships in the process.
While the full speech season runs September through April at Highland, the program accepts students throughout the season. For more information about the HCC Speech team or scholarships, students should email harry.bodell@highland.edu. To get registered for the Highland fall semester, call 815-235-6121 or visit highland.edu/new-students.
Photo caption: (top row, l-r): Rhys Love of Freeport, Mike Sherman of Davis, Shirley Hounnou of Freeport; (bottom row, l-r): Dezi Brooks of Freeport and Harry Bodell, HCC Speech Communication Instructor