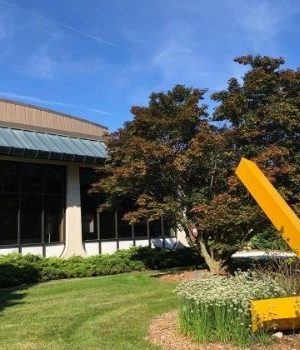 The Highland Gallery features work by current Highland Visual Arts faculty members from Monday, Nov. 8 through Friday, Dec. 3 at the Ferguson Fine Arts Center. This annual event shows recent works by faculty that are on display and available for contemplation, stimulation, and discussion as a featured exhibit for the Fall 2021 semester.
This exhibit allows the community to observe Highland art faculty in their role as artists as opposed to the well-known role as faculty.
"Faculty members of the Highland Visual Arts program are professional artists, as well as instructors, working within a diverse range of media, content, and image concerns," explains Highland Gallery Director Robert Apolloni. "Their individualized style and approach create an exhibit showcasing traditional as well as contemporary concerns. A faculty art exhibition, comprised solely of works created by faculty members, is scholarly – and this exhibit illustrates the commitment of HCC Visual Arts faculty to pursue continued research and artistry outside of the classroom setting."
This exhibit will feature the works of the following artists:
Robert Apolloni
Alex Jansen
Loretta Swanson
This exhibit is partially sponsored by SOVA and HCC Activities.
Highland Gallery hours are 8 a.m. to 5 p.m. Monday through Friday. For more information about the gallery or Highland's Visual Arts program, contact Robert Apolloni at 815-599-3479 or bob.apolloni@highland.edu.