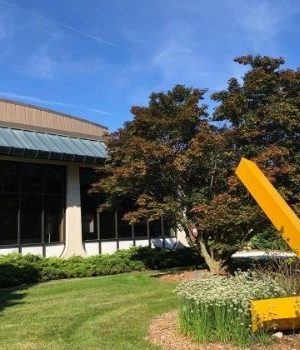 The Highland Gallery will feature work by current Highland Visual Arts faculty members from Nov. 1 through Dec. 4 at the Ferguson Fine Arts Center. This annual Visual Art Faculty Exhibit shows recent work by faculty that is on display and available for contemplation, stimulation and discussion as a featured exhibit for the Fall 2023 semester. The opening reception will be from 4:30 to 6 p.m. on Wednesday, Nov. 1.
This exhibit showcases recent work by some of the current HCC Visual Arts Faculty; Robert Apolloni, (drawing, design, art appreciation) Alex Jansen (Graphic Design) and Dana Russell-Brown (Ceramics). The collection interweaves experience and methods across various mediums and approaches, catalyzing the visual arts to promote communication, education, and inspiration.
The opportunity for instructors to exhibit on campus illuminates their additional role as working artists who actively create and show their work in other galleries and venues. This exhibition offers a peek into the studio art and design practices of HCC's art faculty, acknowledging and celebrating a vibrant visual art community.
Highland Gallery hours are 8 a.m. to 5 p.m. Monday through Friday. For more information about the gallery or Highland's Visual Arts program, contact Robert Apolloni at 815-599-3479 or bob.apolloni @highland.edu.