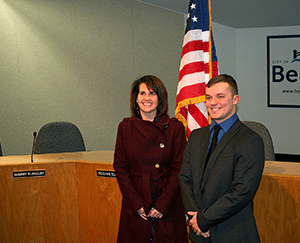 Isaac Asche, a native of Orangeville, was sworn in as a police officer with the Beloit Police Department in Beloit, WI. Asche graduated from Highland Community College in May 2017, with an Associate of Science Degree. He furthered his studies in Law Enforcement at Western Illinois University in Macomb, Ill.
While a student at Highland, Asche studied Criminal Justice and was active in the Criminal Justice Club. He also volunteered for local law enforcement agencies. While studying Criminal Justice at Highland, Asche said his experience taught him that becoming a police officer is more than riding in a patrol car. He said the role of a police officer is about patience and community relations to help people feel safe and follow laws.
"I was a member of the Freeport Police Auxillary and the Stephenson County Sheriff's Reserves which taught me an incredible amount about the field and I strongly recommend anyone interested in law enforcement to look into it," Asche said.
His studies at Highland helped prepare him for his further study in law enforcement and adds the Criminal Justice Club is a great way to discuss the field of law with his peers. In the club, he served as president and was able to listen to guest speakers and stage crime scenes.
Jennifer Roser, Criminal Justice instructor, and advisor to the Criminal Justice Club, said she is proud of Asche to be able to earn a job in a chosen field that took him from his studies at Highland to becoming a police officer.
"Isaac was a role model student while at Highland and I am very proud of his progress," Roser said. "He is headed for basic training and will complete this in May. He has the true heart of a public servant, full of integrity and dedication."
For more information on the Criminal Justice program, visit highland.edu.
Photo Caption: Jennifer Roser, left, poses with Isaac Asche at his swearing-in at the Beloit Police Department in Beloit, WI.