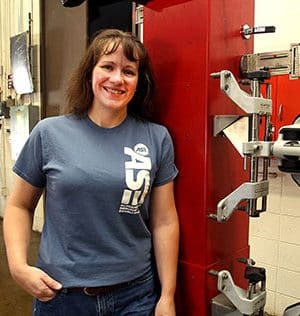 Highland Community College has hired their first female Automotive Mechanics instructor, who will begin teaching classes this fall.
Kristin Stinnett of Polo is a Highland alumnus, who graduated in 2007 from the Automotive Mechanics program. Knowing she wanted to pursue her studies in automotive technology, she attended Southern Illinois University Carbondale (SIUC) where she received her Bachelor's degree in Automotive Technology and her Master's degree in Workforce Education. She also taught Automotive Technology at SIUC as a graduate assistant for 2 years.
She joins the Highland staff with 12 years of technical experience and six years of corporate experience in the automotive field. With her years of experience and education, Stinnett said her interest in automotive began as a young girl as she watched her father fix cars. It was here a passion was born.
"I love mechanical things, figuring out how something works and problem solving. Taking something like a vehicle that doesn't work, fixing it or making it new again is what drives me. I have always found vehicles intriguing and am passionate about the automotive industry and want to transfer that to my students," said Stinnett.
Scott Anderson, vice-president of Business, Technology and Community Programs, said, "Kristin Stinnett is going to be a wonderful addition to our already strong Auto Mechanics program. I couldn't be more excited to have her here. I know she is a true teacher at heart and has a strong educational background with plenty of real-life experience. She will be teaching our first-year students. So if you are ready to launch your career in Auto Mechanics, Highland Community College is the place to be."
Stinnett said she is busy getting reacquainted with her Highland surroundings. She said she looks forward to creating an environment where students can build a good foundation in auto mechanics and instill a drive for continuous learning so they can keep up with the ever changing technology, guiding them toward a successful career.
"It's great to be back at Highland," Stinnett said. "I love the environment and I have always felt at home at Highland," Stinnett said. "At SIUC I got the bug to teach and I wanted to come back to Highland to be an instructor. It's a dream come true."