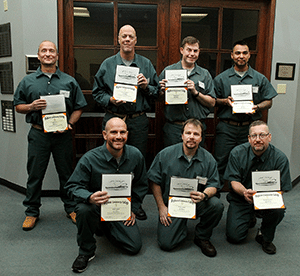 Seven students from the Thomson Federal Prison graduated from Highland Community College on Tuesday, October 30 in the Student/Conference Center on campus at 2998 W. Pearl City Rd., Freeport, Ill.
"Today's graduates were very appreciative to us assisting them in attaining an industrial certificate in Welding," said Tim Hood, Highland Community College President. "However, we share the appreciation with our administrative colleagues at the Thomson facility who have become great partners in education."
The ceremony was conducted by Tim Hood, president of Highland; Liz Gerber, vice president of Student Development and Support Services; Scott Anderson, vice president of Business, Technology and Community Programs; and Donald Hudson, Warden from the Thomson Federal Prison.
The "Thomson Cohorts" participated in classes that began in the summer to complete a Basic Welding Certificate. The students drove themselves daily to the Highland campus for classes and alternated between their welding class and other related courses like Print Reading, Tech Math and Business Communications.
The Highland Community College Board approved a five-year contract with the Federal Bureau of Prisons for provisions of program and administration that will render $226,540 to assist in instructional fees. HCC provides all the instructional training for each participant of the cohort. Each participant has been screened by Thomson and identified as very low risk. The participants complete the 16-credit Welding Certificate during the summer and fall semesters. Upon completion of the program, each successful completer is in a position to enter the workforce as an entry-level welder or pursue an apprenticeship program.
Donald Hudson, Warden at the Thomson Federal Prison began his speech with a quote by Ralph Waldo Emerson who wrote the words, "Life is a journey, not a destination."
Hudson adds, "There is no ending point, we're never finished with our journey, and we should never be finished with our learning and growing. In preparing to speak to you for this graduation, I wanted to remind you to continue, in everything, in life."
Hood mentioned the program's significance to the College's Core Values of Integrity, Compassion and Respect.
Since 1962, Highland Community College has met the needs of greater northwest Illinois through quality educational and cultural programs.
"The cohorts' respect for their learning experiences at Highland was overwhelmingly positive. I couldn't be more proud of our faculty and staff, our colleagues at Thomson, and the adult learners who successfully completed this program," said Hood.
For more information on Highland Community College, visit highland.edu.
Photo: The Thomson Cohorts pose with their certificates after a graduation ceremony at Highland Community College.