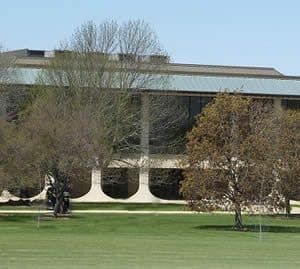 Highland Community College employees recognized fellow colleagues to honor individuals receiving 2020 Excellence Awards, and Service Awards. The awards recognize employees for professional excellence and their years of service.
2020 Excellence Awards
The awards recognize employees for quality work, creativity, honesty, integrity, self-development, and excellence in their professional relationships. A committee made up of Excellence Awards recipients from the previous two years selected the winners in the following categories: full-time faculty, full-time administrative/professional staff, full-time classified staff, and part-time employee of any category.
Full-time Faculty: Jenna Rancingay of Roscoe, Math Instructor; Jenna's nominator says she has represented the Math department from changes in the Math Placement Exam and ACT/SAT scores to the Math program review and her work as transfer math coordinator. Jenna has a student-focused approach. She makes time to work with dual credit and high school faculty to develop courses and transitional math.
Full-time Administrative/Professional Staff: Amanda VenHuizen of Lanark, Student Advisor;
Amanda's nominator says she is known for her attention to detail and welcome rapport with students. She always makes sure coworkers and students get the answers they need while stressing their contributions and value at Highland. Amanda's infectious smile and ability to stay calm through any situation make her shine.
Full-time Classified Staff: Paige Klever of Lena, Student Information Specialist; Paige's nominator says she has been invaluable in the implementation of new recruiting software that will help Admissions streamline several processes. She took the virtual tour and orientation online in 2020. Every day Paige works with families to field questions and show Highland at its best with compassion and respect.
Part-time Faculty/Staff: Wendy Fitzgibbon of Lake Carroll, Testing and Career Services Specialist;
Wendy's nominator says she has shown great compassion to students during ever-changing times. Wendy works with many students facing testing anxiety by assuring them they will do their best. She also provides a calm and peaceful testing environment. Wendy is known for her commitment to Highland's mission and core values, her respect for the testing process with its requirements and integrity.
2020 Service Award Recipients
Five Years of Service: Blake Musser, Trustee (Freeport); David Esch, Instructor, Physics and Engineering (Freeport); Dale Hollis, Maintenance Mechanic (Mt. Morris); Paige Klever, Student Information Specialist (Lena); Christina Kuberski, President (Freeport); Esther Mayer, Coordinator, Literacy and ESL Programs (Freeport); Cassie Mekeel, Instructor, Basic Nursing Assistant (Polo); Shelly Morgan Instructor, Basic Nursing Assistant (Mount Carroll); Jodi Rogers, Office Coordinator (German Valley); Jennifer Roser, Instructor, Criminal Justice (Winnebago); Evan Talbert, Instructor, Hospitality Management (Freeport)
Ten Years of Service: Sandy Dunmore, Financial Aid Specialist II (Freeport); Pete Fink, Director, ITS (Lanark); Michael Gunderson, ITS Support Specialist, Media Systems (Davis); Rich Jacobs, Instructor, Business (Sycamore); Alicia Kepner, Coordinator, Nursing/Allied Health Programs (Lena)
Fifteen Years of Service: Douglas Block, Trustee (Pearl City); Andria Cornelius, Coordinator, Accounting (German Valley); Melissa Johnson, Coordinator, Early Childhood Education (Rockford); Jeremy Monigold, Instructor, Information Technology (Cedarville); Anthony Sago, Director, TRIO Services (Rockford); Michael Skwara, User Services Librarian (Freeport); Renee Welch, Payroll Specialist (Freeport); Jim Yeager, Instructor, Speech (Roscoe)
Twenty Years of Service: Joani Bardell, Office Coordinator (Freeport); Bill Buehler, Office Coordinator (Freeport); Carolyn Petsche, Director, Learning & Transitional Education Services (Warren); Jim Phillips, Interim Vice President of Academic Services/CAO, and Dean, Humanities, Social Sciences & Fine Arts (Freeport); Patti Potter, Administrative Applications Administrator (Rockford); Ken Rausch, Maintenance Mechanic (Pearl City)
Twenty-Five Years of Service: Steve Gollmer, Custodian (Freeport); Sandy Johnson, Human Resources Specialist (Freeport); Clint Stansbury, Lead Custodian, First Shift (Freeport)
Thirty Years of Service: Scott Anderson, Vice President, Business, Technology, and Community Programs (Freeport)