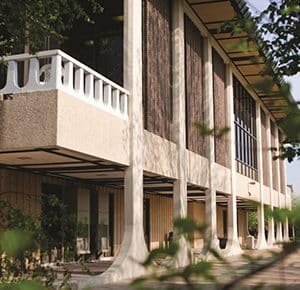 Highland Community College employees recognized colleagues receiving 2021 Excellence Awards, and Service Awards. The awards recognize employees for professional excellence and their years of service.
2021 Excellence Awards
Excellence Awards recognize employees for quality work, creativity, honesty, integrity, self-development, and excellence in their professional relationships. A committee made up of recipients from the previous two years selected the winners in the following categories: full-time faculty, full-time administrative/professional staff, full-time classified staff, and part-time employee of any category.
Alex Jansen (Freeport) — Administrative/Professional Excellence Award; Jansen is a Fine Art's Technical Coordinator. He has provided leadership in securing funding for a new theatre rigging system, back curtains, communication system, soundboard, upgraded lighting, and a live streaming system for the theatre.
Jennifer Roser (Rockford) — Faculty Excellence Award; Since she began at Highland, Roser has worked tirelessly to build and grow the Criminal Justice program. The program was brand new when she was hired, and was only made up of core classes for the program. Now, Criminal Justice offers an Associate of Science, an Associate of Applied Science, and a certificate program, and there are 13 separate courses available.
Michaela Hooper (Freeport) — Classified Excellence Award; Hooper, Student Information Assistant, has been at Highland since September 2019. Hooper is solid and dependable, and quietly serves the College with impactful work in a much-needed role on campus. She builds constructive working relationships characterized by cooperation, collaboration, and mutual respect.
Jackie Schultz (German Valley) — Part-time Faculty/Staff Excellence Award; Schultz is the administrative assistant for Lifelong Learning. One of her qualities is her ability to work with budgets, hours, and class cancellations. She has helped propel the Lifelong Learning program forward.
2021 Opel Award recipient
The Highland Community College Foundation annually recognizes one employee with the Opel Award, named for one of the Foundation's founders, Don Opel. The award recognizes employees who serve and promote the College. This year the Foundation presented the award to Vice-President Student Development and Support Services Liz Gerber of Lena. Gerber is known for going above and beyond to support and promote the college.
2021 Service Award Recipients
Five Years of Service: Laura Early, Instructor (Lanark); Sam Schaible, Outreach, Dual Credit & Pathways Coordinator (Warren); Troy Schmelzer, Custodian (Freeport)
Ten Years of Service: Brendan Dutmer, Dean, Natural Science and Mathematics (Pecatonica); Jessica Larson, Instructor (Freeport); Ellen Conway, Coordinator, Student Accounts (Lena); Brian Moore, Student Advisor (Freeport)
Fifteen Years of Service: Juliet Moderow, Instructor (Freeport); Kathy Bangasser, Director, Financial Aid (Freeport)
Twenty Years of Service: Jim Palmer, Instructor (Stockton); Jill Janssen VP, Administrative Services (Shannon); Beth Groshans, Student Advisor (Freeport)
Twenty-Five Years of Service: Rhonda Perry, Executive Assistant (Stockton); Liz Gerber VP, Student Development and Student Services (Lena); Tony Grahame, Instructor (Pearl City); Steve Mihina  Instructor (Freeport); Dawn Switzer, Administrative Assistant (Lena)