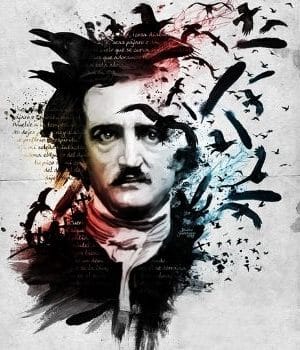 Get ready for "An Evening of Poe," a ghostly experience presented by the Highland Community College theatre students. The virtual event will feature readings of some of the scariest stories by Edgar Allan Poe on Friday, Oct. 30 at 7:30 p.m. and on Saturday, Oct. 31 at
2 p.m. Attendees will need to register for the free virtual event at highland.edu/tickets to receive the performance link.
"We are fortunate to have very talented theatre students at Highland and I wanted to find a way for them to use some of those talents during this time in which we are staying safe and social distancing," said Laura Early, Highland Theatre Instructor. "The cast members, Elizabeth Brunner, Allison Kehl and Mycah Cassell and I thought an event for Halloween might be fun. We decided to read Edgar Allan Poe short stories and poems."
Each student selected their own favorite stories written by Poe:
"The Raven" read by Elizabeth Brunner of Lena
"The Masque of the Red Death" read by Mycah Cassell of Dakota
"The Tell-Tale Heart" read by Allison Kehl of Stockton (This reading contains described violence)
To learn more about the Highland's theatre program, visit highland.edu/academics/theatre or contact Laura Early at laura.early@highland.edu.