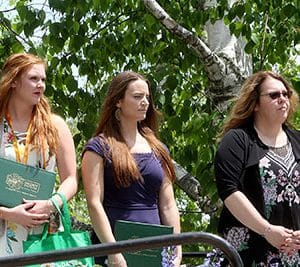 A Highland Community College instructor, and two graduating nursing students were recognized with The DAISY Award for extraordinary nursing from The DAISY Foundation that has recognized faculty and students for having a profound impact on nursing students, and to recognize deserving students for future practices.
Kay Sperry, MSN,RN-BC, of Warren was presented The DAISY Faculty Award during the pinning ceremony following the Highland Community College Commencement in May. She was nominated by a student who wrote, "Kay Sperry has been my instructor since I began my CNA training. She supported me through my first honors project and my clinicals as a CNA. I have had an exceptional learning experience with her over my last two semesters of nursing school. She is a true professional in all aspects of her role and is a fair and impartial instructor."
Also recognized for The DAISY in Training Awards given to graduating students were Kassidy Korte of Dakota and Victoria Goetz of Freeport.
The DAISY in Training Award is designed to remind students, even on the hardest days in nursing school, why becoming a nurse is an enriching career choice. It is for those students who exemplify the delivery of clinical care in a compassionate way to patients and their families.
The DAISY Faculty Award was established to provide colleges and schools of nursing, a national recognition program to demonstrate a commitment and influence on their students. The DAISY Foundation recognizes faculty retention; engagement and a positive work environment. The faculty award program is about encouraging nursing faculty to continue teaching.
The DAISY Awards were established in memory of J. Patrick Barnes, who died at 33 from an auto-immune disease. The Barnes Family was awestruck by the clinical skills, caring, and compassion of the nurses who cared for Patrick. They created this national award to demonstrate appreciation to the faculty of nursing students and to say thank you.
To nominate a Highland Community College student or faculty member for The DAISY Award, visit highland.edu/academic-programs/nursing and download a nomination form. Submission deadline is May 1, 2019.
Photo:  Kassidy Korte, left, Victoria Goetz and Kay Sperry.