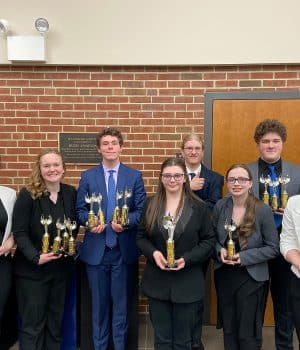 It was a historic performance for the Highland Community College Speech and Debate Team with a strong showing at the state tournament on March 3-4 at Northern Illinois University. The team has met with success over the season and looks forward to the regional and national competition.
"I am beyond proud of Highland's performance at the Illinois Intercollegiate Forensics Association (IIFA) State Tournament," said Speech Team Coach and Advisor Harry Bodell, a speech communication instructor. "In our team's long history, this appears to be Highland's first time finishing among the top five community colleges in overall team sweepstakes. We were also able to secure our first individual state championship of my tenure at Highland — the first of what I expect to be many.
Bodell adds, "As proud as I am of the team's competitive success at our state's most competitive and prestigious tournament, I am so proud of how each member of the team represents the college as a student and individual. They are supportive, curious, motivated, and team-oriented. It is a joy to work with them, and Highland can be proud of how it is represented on the statewide stage."
"We are proud to see our tireless efforts pay off this season," added Brooke Allison Parkinson, who was named State Champion for Prose Interpretation. "This close-knit team, benevolent coaches, and close supporters are the reasons for our success. Many thanks to all of them."
Results:
International Public Debate (IPDA)
Brooke Allison Parkinson, Two-Year Semifinalist
Communication Analysis (Two-year)
Brooke Allison Parkinson, Third Place
Mason McIntyre, Sixth Place
Dramatic Interpretation (Two-year)
Noah Redmore, Fifth Place
Duo Interpretation (Two-year)
Maddie Eppenstein & Ruby Snyder, Third Place
Extemporaneous Speaking (Two-year)
Mason McIntyre, Fourth Place
Informative Speaking (Two-year)
Mason McIntyre, Third Place
Persuasive Speaking (Two-year)
Noah Redmore, Second Place
Prose Interpretation (Two-year)
Brooke Allison Parkinson, State Champion
Tabitha Roenneburg, Fifth Place
Speech to Entertain (Two-year)
Noah Redmore, Fourth Place
Brooke Allison Parkinson,Fifth Place
Team Sweepstakes
Two-Year Individual Events: Fourth Place
Two-Year Overall Sweeps: Fifth Place
Photo (left to right): Kevyn Sutter, Ruby Snyder, Brooke Allison Parkinson, Mason McIntyre, Olivia Wilhelms, Matthew Coulson, Tabitha Roenneburg, Noah Redmore, Maddie Eppenstein, Harry Bodell
For more on HCC's Speech and Debate Team, visit highland.edu or email harry.bodell@highland.edu.