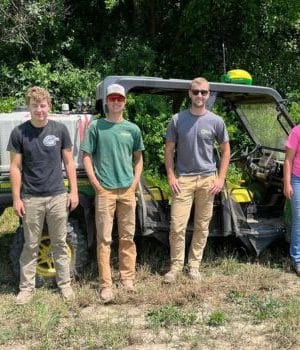 The Highland Community College Agriculture Department would like to invite the public to the 2023 Agriculture Research Day. The event will begin at 9 a.m. on Wednesday, Sept. 6 at the Highland Community College Research Plots located at 3579 W. Stephenson Street in Freeport.
The annual event showcases some of the projects Highland Agriculture students have worked on throughout the growing season. Highlights this year include corn and soybean variety trials, fungicide application trials, planting population studies, planter technology trials, and some partnership projects with the University of Illinois.
Throughout the morning, industry professionals will be on hand discussing seed traits, chemical properties, agronomic insights, and equipment technology. New this year will be a demonstration using the Highland Agriculture planter that was recently upgraded with Precision Planting DeltaForce, FurrowForce, and CleanSweep.
A demonstration using the college's DJI T10 aerial application drone that was used this year to apply cover crops will also be included at the event. To finish off the day, lunch will be provided to all attendees.
"The day is sure to be full of useful agronomic information and networking among students, producers, and industry leaders," said Justin Ebert, an Agriculture instructor at Highland.
The Highland Agriculture Department would like to thank the following businesses for supporting their efforts at the research plots: Highland Community College Foundation, Stephenson Service Company, Pearl City Elevator, Baker Precision Planter Works, Prairie State Tractor, Cornelius Seed, Firehouse Seed & Service, Renk Seed, Nutrien Ag Solutions, Mark Feed & Seed, Channel Seed, Bayer Crop Science, BASF, Wyffels Hybrids, Taranis, Climate Fieldview, Sheffey Farms, Becker Farms, Hinrichs Family Farms, Champion Seed, Brevant Seeds, DyanGro Seed, Dairyland Seed, Croplan, Dekalb Seed, Alloy Seed, and Genesis Seed.
To find more information and register for this free event, please visit the Highland Community College Events page at highland.edu/event-calendar.
Photo: The summer crop scouting class is pictured, including Jared Bergeman (from left), Carter Daws, Dylan Greenfield, Cole Becker, Sophia Hughes, and Cheyenne Mapes.