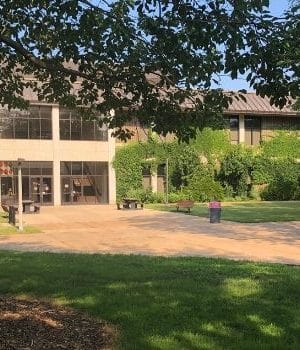 Six Highland Community College students presented their honors projects via Zoom™. Highland's Honors students created and designed the projects on a chosen topic.
The Honors Program at Highland Community College is designed to provide eligible students with enhanced educational experiences in select courses chosen in cooperation with College faculty. Students must maintain a 3.5/4.0 grade point average to remain eligible for the Honors Program. Students must possess an ACT composite score of 25 or greater, or 1200 out of 1600 on SAT, or finished in the top 10 percent of their high school graduating class. This is the 14th year of the program.
"Students can complete projects in either general education or classes specific to their majors, allowing them to dive deeper into the education and career paths they have planned," said Evan Talbert, Honors Program Director, and Highland instructor. "It also allows for closer, individualized learning with their instructors, as well as an opportunity to explore their chosen fields at a level not typically seen in the classroom."
Honors projects help prepare students for the next step on an educational or career journey. The Honors Program provides an additional hands-on workforce and learning experience. Students work alongside an instructor to develop and complete the project. Topics vary from further research of a particular field of study, current events or trends, a course's curriculum, and the student's interests and goals.
Students who presented were:
Paityn Broshous (Forreston) — Designed an exercise physiology experiment to research the difference between athletes and non-athlete's bodies before, during, and after physical activity.
Matthew Coulson (Lanark) — Expanded a research paper on recognizing esports as sports
Anthony Gennusa (Freeport) — Researched and wrote a paper on the effects of positive programs on delinquent youths.
Ashley Janssen (Shannon) — Developed and implemented a lesson plan for a kindergarten class utilizing educational technologies.
Cierra Schoen (Monroe, Wis.) — Researched and wrote a paper on resource allocation in criminal justice institutions.
Jennifer Swedlund (Lena) — Researched and did a presentation on the biology of cats.
The Honors Forum Project presentation is made possible through the Clarence Mitchell Library. To view the Honors Forum Projects go to https://highland.edu/honors-program/.