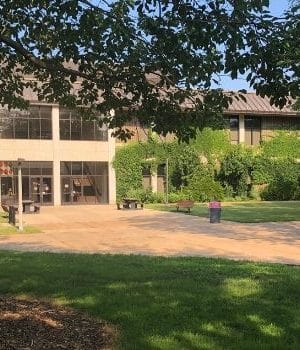 Students in the sociology class Death and Dying will host a Death Café at 10 a.m. March 9 via Zoom™.
"This is such a great opportunity for our students and our community to come together and discuss these topics in a Death Café and be part of this international movement," said Julie Hartman-Linck, Sociology instructor. "Life and death are interdependent, we don't have one without the other, and the goal of a Death Café, much like the goals of our Death & Dying class, is to better understand death as one more part of life, and use that knowledge to (hopefully) make more out of the finite time we're alive."
This event aims to increase awareness of death to help people make the most of their lives. This is part of an international movement that includes more than 6,000 events in 56 countries. This year's café is Highland's third.
Highland student, Makenzie Fiene, said, "At first I was hesitant to take a class that had death and dying in the name, but it has become one of my favorite classes I've taken at Highland. Even if I'm 19 and don't plan on passing soon it teaches you what goes on when a person is near death, and what steps need to be taken in the dying, and grieving process. This class even gave me a little closure on helping myself express my grief from losing grandparents."
The Death Cafe model was developed by Jon Underwood and Sue Barsky Reid, based on the ideas of Swiss sociologist Bernard Crettaz, who organized "café mortals" Inspired by Crettaz's work, Underwood decided to use a similar model for his project, and Death Café was born. For more information visit deathcafe.com.
For the Zoom link, go to highland.edu.