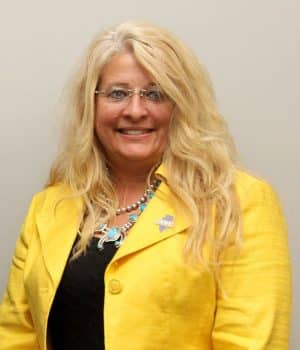 The Highland Community College Board of Trustees is proud to announce Trustee Pennie Groezinger has been elected to serve on the Association of Community College Trustees (ACCT) Diversity, Equity, and Inclusion Committee for a second term.
"Serving on the national ACCT committee allows me to learn, grow, and share with others throughout the nation," Groezinger said. "My goal is to live out the value of believing in, building up and encouraging everyone."
Community service is at the core of Groezinger's sense of service. She has been actively involved with the Illinois Community College Trustees Association (ICCTA), serving on the Diversity, Equity, and Inclusion Committee, and the Awards Team. In addition, she has served as the College's voting delegate for ACCT's Annual Leadership Congress.
"One of our state initiatives was our neurodiversity inclusion initiative," said Groezinger. "I firmly believe in improving today and tomorrow for people with learning challenges like autism, dyslexia and other learning challenges. Everyone should have an opportunity to learn, to grow and to contribute to their American dream – inclusion is very important to me."
Groezinger is also serving a second term as a trustee at Highland Community College. She said being a trustee is important to her: "It starts with each of us. We each have the ability to make a difference. As a trustee for HCC, I represent Jo Daviess, Stephenson, Carroll, and Ogle Counties in a fiscally responsible mindset, emphasizing growing and building the skills that our industries and communities need to thrive. My acts of service toward advancing Highland as a professional learning environment are shown through my choices, decisions and votes of support. I am living out my responsibilities of standing up as a voice of equity and inclusion for all students and residents in the counties I serve."
She believes representing HCC at both ICCTA and ACCT puts the Northwest Illinois region on the map. She likes having a voice and is humble and confident in representing the communities in the district.
"Our community college system is and will be a game changer for our region, from CDL driving courses and welding certificates to smooth transfer programs with area four-year institutions," said Groezinger. "I believe in Highland, our students and our communities, and am focused on living up to our mission of shaping futures by providing quality education and learning opportunities through programs and services that encourage personal and professional growth."
She is currently serving on the Tyler's Justice Center Board of Directors (a non-profit children's advocacy center), the Illinois Bank & Trust NW IL Commercial and Community Development Board, the Illinois Grain & Feed Legislative Committee & Scholarship Committee, and the Pearl City Elevator (PCE) Empowering Foundation. She is also a member of the Society of Human Resource Management, the National FFA Alumni Association, and the Women's Enrichment Network of the Greater Freeport Partnership, as well as previous years of service on the University of Illinois Extension Council, township government and Stockton Strong community development committee.
Groezinger is starting her 33rd year of serving the agriculture industry working for Pearl City Elevator as the Chief Customer and People Officer (CCPO). Her leadership from both a personal and professional point of view contributes to a well-rounded voice of reason for area farmers, employees, and the agriculture industry.
She is a background cheerleader for her son's flower farm business, Clara Joyce Flowers. When not working for PCE or volunteering, she can be found helping support her son Drew's growing flower production and wedding design business.
"Living out my family's legacy of faith, I am active in the same country church my great-grandfather helped build," she adds.