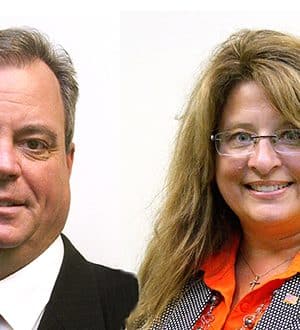 Highland Community College trustees Pennie Groezinger and Shawn Boldt have been appointed to serve on separate committees with the Association of Community College Trustees (ACCT).
ACCT is a non-profit educational organization of governing boards that represents more than 6,500 elected and appointed trustees who govern more than 1,200 community and technical colleges across the country and beyond. ACCT is a major voice of community college trustees to the presidential administration, Congress, and Departments of Education.
Groezinger was elected to the Highland Board of Trustees in 2017 and is currently serving as the vice chair. She will serve on the Diversity, Equity, and Inclusion committee for ACCT. This committee ensures leadership for the involvement of historically underrepresented diverse populations within the governance activities of ACCT, promotes respect for and acceptance of diverse individuals and promotes awareness and educational opportunities. It advises the ACCT board by strengthening the links with the minority membership, identifying issues that require member input, and recommending strategies.
"It is an honor to represent HCC, on a national level, with a team of colleagues who believe passionately that diversity of color, culture, gender, and beliefs are our strengths," Groezinger said. "We all can promote a culture of acceptance and inclusion — and it is our responsibility."
She adds, "When we listen and celebrate what is both different and common, we become stronger, more inclusive, and better institutions. There is a saying that has always been important to me and that is, 'If you want to go fast, go alone. If you want to go far, go together.' I believe in the values of going together, with diversity, equity, and inclusion."
Boldt was elected to the Highland Board of Trustees in 2019 and is chair of the Audit & Finance Committee. He will serve on ACCT's Member Communications and Education Committee, which is responsible for evaluating and making recommendations to strengthen the board's links with the membership by identifying issues that require member input and recommending strategies to gather input. Boldt will also be part of strengthening education programs with current ACCT programs.
"Serving college students, faculty, and staff and equipping them with the tools and environment to succeed has been a privilege while serving as a trustee at Highland, and also on the state board of the Illinois Community College Trustees Association," Boldt said. "It will be an honor to serve on a national level to continue the fight for the needs of the Community College system."
Boldt adds, "I look forward to continuing the work needed to make sure that the students, faculty, and staff are set up to succeed in a diverse, equitable, inclusive environment empowering all to succeed."
For more about Highland Community College visit highland.edu.